CATEGORIES
OUR FRIENDS
ARCHIVES
RECENT COMMENTS
OUR PICS
Tonight: Chase Hamblin (Reviewed! & More Shows) + Haiti Benefit Show #2 [1/21/2010 05:23:00 PM]: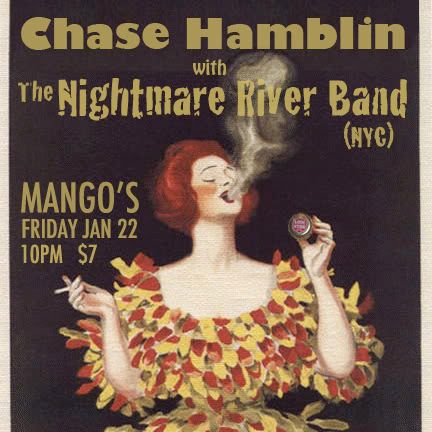 Just a quick note for your upcoming Thursday (aka January 21st) evening, y'all... A few days back, your humble editor guy finally reviewed local retro-pop singer/songwriter/bandleader guy Chase Hamblin's debut EP, A Fine Time -- apologies to Chase for it taking so damn long (I think I got the damn EP back in the summer -- cringe), by the way; I'm afraid my pile of stuff I need to listen to & write about has grown to monumental proportions. Working through it, honest...
At any rate, now that I've gotten a chance to listen to it a bit more intently & write about it, I'm pretty damn impressed. It's a quick-hit of an EP, skipping cheerily past so I have to go back & try to fix in my head what I just heard, but that's never a bad thing; better still, it's got a nice bit of murky darkness lurking beneath the shiny, bouncy Beatlesque shell (no, really -- just listen to the title track). Kudos to the guy for coming up with an EP of songs that sound not like '60s ripoffs but like songs that grab the '60s sound and use it for their own nefarious ends. Check out the full review here, should you be inclined.
And hey, Chase will be playing tonight (naturally), opening for accordionist(!) Mark Growden, who I dunno, up at the Avant Garden. Show starts at 10PM, and the cover's $5. I don't care what anybody says -- accordions fucking rule.
Oh, and Chase's playing again tomorrow night, Friday, January 22nd, this time with his full band, headlining a show with Noo Yawkers The Nightmare River Band (who I keep wanting to call the Riverbottom Nightmare Band) and local songstress Maryanna Sokol. The show'll be at Mango's The flyer for that one's over there on the right.
And then, um, he's playing a third time in a week or so, next Friday, January 29th, at a fundraiser the Free Press gang's organizing (I believe?) for Abbas from Cafe Brasil, who's had to have hip surgery and needs help with the bills. Mango's, again, for that one. Plenty, plenty, plenty of chances to see Chase, so unless you, like me, are stuck at the casa with a kuato attached to you, you've got no excuse. Right?
Taft Street Haiti Benefit:
While I'm at it, tonight also happens to be the second in a handful of benefits going on 'round town for the earthquake-stricken people of Haiti (who're now coping with aftershocks nearly as bad as the initial quake). According to Houston Calling, local musician Derek Webb is organizing the thing over at the Taft Street Coffee House; he says there'll be "others" involved in tonight's show (which starts at 6PM), but I've got no details at to who. Still, a good cause; thanks to David for the tip.
Labels: Charitable Things, Flyeration, H-Town News, Musical Crap, Public Service Announcements, Things To Do
gaijin || Link || E-mail || 0 comments
All contents © 2010 Space City Rock, unless otherwise credited (photos used on the site excepted).