CATEGORIES
OUR FRIENDS
ARCHIVES
RECENT COMMENTS
OUR PICS
Tonight: Mi Ami (Interview Up!) + Thank You + Tambersauro (Remixed!) @ The Mink [3/04/2009 04:00:00 PM]: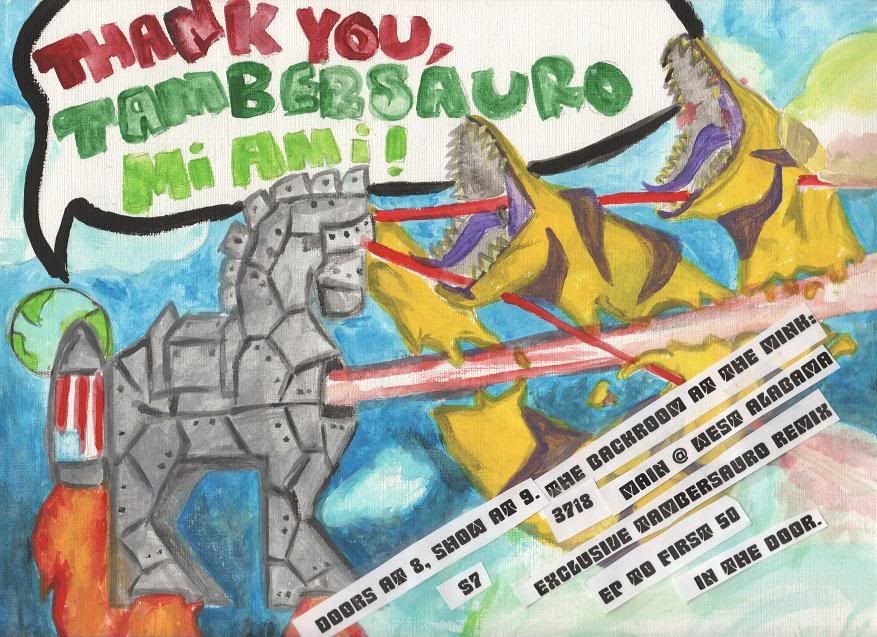 I'll admit that I'm tempted by tonight's show at Fitzgerald's, because The Hudson Falcons are pretty great, but honestly, The Mink is The Place to Be this evening. Local boys Tambersauro will be opening this evening (Wed., March 4th), starting around 9PM, for Baltimoreans (Baltimories?) Thank You and San Franciscans (and ex-Black Eyes members) Mi Ami, both of whom sound freakishly, insanely cool to my little ears.
Headliners Mi Ami are probably the craziest of the bunch -- they do alternately jerky and low-key, almost tribal-sounding, Minutemen-esque dub-punk that combines trippy, dub-y rhythms and shards of Gang of Four guitar with vocalist/guitarist Daniel Martin-McCormick's bizarrely high-pitched yelp (seriously, the guy's got the highest voice I've ever heard from a member of the gender, and that's before he does anything in what sounds like his falsetto). The end result is like some mutant crossbreeding of PiL and the Blood Brothers, and it's definitely unique, intriguing stuff.
And hey, we've got a cool-ass interview with frontman Martin-McCormick up here for your perusal, courtesy of new-ish writer Thomas M.. It's dang good, if I do say so...
Thank You are no slouches, btw, playing a harsh, claustrophobic brand of post-rock with a proggy bent and ton of sharp edges -- they're almost like a mostly vocal-less Parts & Labor at points (and anybody who reads this blog regularly should know much I fucking love P&L). The songs swirl and crunch nicely, and the drum parts seem to require something like six arms to play 'em right. It all skitters like bugs trying to avoid being caught in the light just as the door to an abandoned room opens.
All things considered, though, Tambersauro's my personal draw; they haven't been playing out much since the release of the excellent Theories of Delusional Origin last year, but thankfully now they're gearing up again, busy recording stuff for a new LP due out this next August and playing like bona-fide crazy people.
Which is a damn good thing, since they're one of the most intriguing bands in town -- they make my head spin at times, but I'm in utter awe of what they're able to do, taking these frantic, muscular-sounding songs and wrestling them to the floor while yelling/muttering surreal Slint-esque storylines. And as I've mentioned elsewhere, they do it all without coming off pretentious and over-arty. Check 'em out, folks; you won't be disappointed.
As an added bonus for tonight's show, too, the first 50 folks in the door will get their very own copies of a two-song Chick Tracks single of remixes by LIMB (aka one of the guys from By the End of Tonight, I think?) and Narreme -- I've heard the remix of "Make Water Sand", and it's pretty mind-bendingly cool (of course, it helps that it's one of my favorite tracks off Theories, but y'know).
$7 for the whole dang bucket of awesome; can't beat that.
Labels: Interviews, Musical Crap, Pseudo-Reviews, Public Service Announcements, Things To Do, Things To Get
gaijin || Link || E-mail || 0 comments
All contents © 2010 Space City Rock, unless otherwise credited (photos used on the site excepted).