CATEGORIES
OUR FRIENDS
ARCHIVES
RECENT COMMENTS
OUR PICS
Saturday Night Madness: Young Mammals + Sad Like Crazy + Ka-Nives + Baristas + More [2/28/2009 07:45:00 PM]:
The last 24 hours have been somewhat of an up-and-down experience. The clutch on the car died last night, leaving us dead in the water on Chimney Rock and requiring two new parts that I can't get put in 'til Monday night; gah.
At the same time, though, my faith in humanity was somewhat restored by the very kind people who stopped behind us on the street and immediately jumped out to push the car halfway to our house (we luckily made it almost back home before the car died), the police officer who drove behind w/her lights flashing to nobody ran me & the other car-pushers over, the surprisingly kind people at Nationwide who got us a free tow to the mechanic, and Hajji, the prompt, friendly towtruck driver himself. It warms my inherently cynical heart to see how damn nice people can be when you need help; all things considered, I feel very fortunate.
The bad part, though, is that I'm car-less for the rest of the weekend, 'cause the mechanic's got to order parts & all for my beat-down car. Which particularly sucks tonight, seeing as there're about a million awesome-sounding shows going on. Here's my picks, for those among you who, unlike me, have some form of transportation:
Young Mammals (CD release)/Woozyhelmet/Buxton @ Aerosol Warfare/DiverseWorks House (1625 Alabama; $5, 9PM)
My Education/Sad Like Crazy/Exterminating Angels @ Rudyard's
The Ka-Nives/Secret Prostitutes @ Big Star Bar
Yeah, tonight's designated Hipster Place to Be is a three-way split, which is gonna make it a hard choice. In one corner, you've got the CD release for H-town indie-pop royalty-in-waiting Young Mammals, who are honestly one of the most energetic, captivating bands I've ever been lucky enough to see play; they're playing with fellow purveyors of coolness cracked indie-rockers Woozyhelmet (who I really need to add to the "Featured Bands" list, since 1-2/3rds of the band lives here now) and chemical-burbs-bred country/folk burners Buxton, which gives the bill probably the best ratio, 3 for 3.
Then there's expat Houstonians Sad Like Crazy (ex-Trompedo/-Celindine/etc.), who are a band near & dear to my heart -- I got to see 'em last year on a return visit, and I'll be damned if they haven't missed a freakin' step since they formed back in the late '90s (which, yes, makes them ooooooooollllld by Houston-musical standards). They're bringing along (okay, opening for) fellow Austin-dwellers My Education, who do an Explosions in the Sky-esque cinematic/drifting instro-rock thing and do it well, and Exterminating Angels, who I don't know.
To round out the top three, there's the Ka-Nives triumphant (albeit brief) return to Houston, playing their scrappy brand of garage-y, yell-along fun-rock at newish hipster hangout Big Star Bar up in the Heights (I think?). I haven't seen these guys in years, seriously, so I've got no real clue what it'll be like, but it should be entertaining, at least. Oh, and they're playing w/Secret Prostitutes, who I've heard are dang good themselves. Pick yr poison...
The Guns of Detroit/The Baristas/Charger Fits/Ellypseas @ Notsuoh (free; 10PM)
And the start of the runners-up...I caught ex-H-towners Guns of Detroit at the Westfest thing a while back and was duly impressed, even if I didn't get to catch the whole thing. The Baristas are pretty promising, too -- their first album was quirky and odd and weirdly endearing pop-rock, so I'm hopeful that their new one (tonight's the CD release) lives up to the promise of the first. I dunno Ellypseas, but what I've heard of Charger Fits is damn good. If I were going to this one, I'd make sure to get there early to see them, eh?
The Watermarks/Ladyheat/We Were Wolves @ The Mink
Yet another "heard 'em but haven't seen 'em" show, I'm afraid -- I've heard and liked The Watermarks and Ladyheat, who're both cool and good at what they do, although admittedly in very different directions. Gonna have to see 'em soon...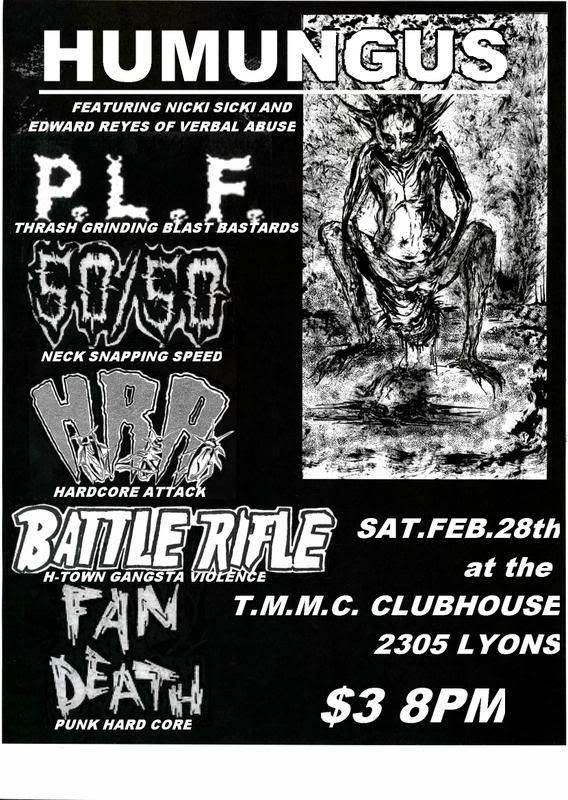 Humungus/P.L.F./50-50/HRA/Battle Rifle/Fan Death @ T.M.M.C. Clubhouse (2305 Lyons; 8PM, $3)
A blast from the H-town punk past; man... I've never been a grindcore fan, myself, although I've heard good reviews of P.L.F. and Battle Rifle from folks who are, but this show's worth it just to see Nicki Sicki & Humungus return to his Houston roots.
Little Joe Washington's 70th Birthday Bash, featuring Little Joe Washington, Cage Of Skin, & the Psychodillos @ Last Concert Cafe
This guy's a bona fide Houston treasure -- one of the last surviving bluesmen from the era when playing the blues meant being a hard-drinking, hard-living wildman. He's talented as hell and batshit crazy, which makes him a wonder to behold. Go help him celebrate another year of living...
Sedition Dance Party, featuring Urbane Guerrilla Sound System @ Sedition Books (901 Richmond)
A bit late on this one, sadly -- it starts at 8PM, and I literally just heard about it -- but it sounds like a cool deal. I really like Sedition Books & think they deserve all the support they can get, and plus, Urbane Guerrilla Sound System is apparently Stewart of the awesome Teenage Kicks doing a DJ thing. Check it out.
Freezerfest 4, featuring The Faceless, Arsis, Misery Index, Tony Danza Tapdance Extravaganza, Upon A Burning Body, Novista, All the Way to the Bank, & more @ Javajazz Coffee House (Spring)
Yeah, I've really got no clue on this one -- I just think that the band name Tony Danza Tapdance Extravaganza is crazily inspired.
The Molly Ringwalds @ The Scout Bar (Clear Lake)
Okay, this one's not really a recommendation but a warning -- despite the shouldn't-be-surprising similarity in names, this band is not the much-beloved '80s-influenced band that plays every dang week at The Continental Club, Molly and The Ringwalds. This one's just a bunch of guys dressed up in cartoonish '80s clothes and playing (I'm assuming) '80s covers.

Runners-Up Time:
Miss Leslie & Her Juke-Jointers @ Aubrey's
Pitstomper's 21st Birthday Bash, featuring Left To Rot, Ninth Kingdom, Carry The Storm, Lonestar Massacre, Krankshaft, & more @ Walter's on Washington
The Pretenders/American Bang @ House of Blues
The Juan Maclean/Ceeplus Bad Knives/GRRRL Parts/Damon Allen/PRKL8R @ Numbers
Blaggards @ Molly Malone's (Spring)
Labels: H-Town News, Musical Crap, Public Service Announcements, Things To Do
gaijin || Link || E-mail || 0 comments
All contents © 2010 Space City Rock, unless otherwise credited (photos used on the site excepted).