CATEGORIES
OUR FRIENDS
ARCHIVES
RECENT COMMENTS
OUR PICS
Yr. Weekend, Pt. 3: Joe Pug + Dick Dale + H.I.S.D. + Gift Horse + Inoculist + More [3/13/2010 11:45:00 PM]:
Trying to get a little bit of a jump on tomorrow (Sunday, March 14th), 'cause it's looking like a good night, and I want to make sure I don't miss mentioning anything...
Before I forget, though, I have a bit of sad news: it looks like Pierced Arrows cancelled their show at Rudz this coming Mon., March 15th, so fans are gonna have to catch 'em up in Austin on the 18th, sorry.
Anyway, here's tomorrow night:
Joe Pug/Horse Feathers/Davie Graves @ Mango's
Heard really, really good things about Joe Pug, and what I've heard so far of the guy's music pretty much lives up to the recommendations. He's a folkie, to be sure, but he's the heartfelt, hard-bitten, poet-on-a-barstool kind, more akin to Steve Earle or a rougher-voiced Damien Jurado, and he pulls it off very freaking nicely.
Tourmates Horse Feathers dwell in the same stylistic city, crafting sweetly swaying indie-folk, but while Pug's over in the trailer-park 'hood on the wrong side of the tracks, singing out his troubles on a beaten-up guitar, Horse Feathers are hidden away in the mysterious house on the edge of town, putting together some wonderfully-orchestrated Americana. But hey, both flavors work real well, so hey...

Dick Dale @ House of Blues
One of these days, I've seriously got to get out & check out Dick Dale... I mean, the guy's a bona-fide legend, the man who practically invented a whole genre of guitar-based music, and the songs he came up with are -- to me, anyway -- up there with anything the Beatles or Zeppelin did in terms of impact on music as a whole. I mean, before Dale, nobody used reverb that way; that in itself is pretty monumental, up there with whoever the hell first used a distortion pedal. And "Misirlou" is up there with, say, "Stairway to Heaven," in my book.

The WOW/H.I.S.D./Michele Thibeaux/D.Rose/Consice Kilgore/Radio Galaxy @ Warehouse Live (Studio)
No clue what The WOW is, but I caught H.I.S.D. (aka the Hueston Independent Spit District) at last year's Summerfest, and they were pretty damn impressive, switching off verses effortlessly and coming off like a street-level Roots more than anything else, w/smart lyrics that were serious & playful all at once. Plus, their Summer Sessions (which I think you can still download for free from their site) mixtape is nicely done...

SXSW Overflow Fest, featuring New Familiars, Gift Horse, Spells, Wizzard Sleeve, Predator, Girls At Dawn, Floating Action, State and Madison, The Heyday, & Cavashawn @ Super Happy Fun Land
Hope to give a fuller rundown of all the bands playing sometime tomorrow (cross fingers), but I've heard Gift Horse's Mountain of Youth already, and it's pretty neat -- woozy, noisy/soft, almost hypnotic indie-rock with "flat"-sounding vocals that reminds me a little bit (vocally, anyway) of early Low.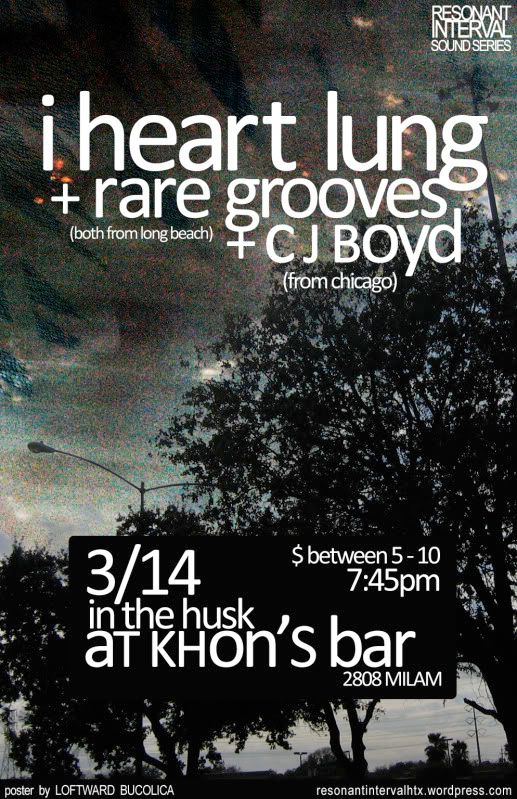 Resonant Interval Sound Series, featuring I Heart Lung, Rare Grooves, & CJ Boyd @ The Husk (2808 Milam; 7:45PM, $5-$8)
Latest installment of the Resonant Interval Sound Series, this time with Long Beach duo I Heart Lung (which is a great name, btw), the apparently Minutemen-esque Rare Grooves, and former(?) H-towner and bassist CJ Boyd. Like with all the RISS shows, this one sounds pretty intriguing; fans of experimental, avant-garde, or just plain oddball music, take notice.
Inoculist/Golden Arrow Holy Face/Wols @ 3910 Driscoll (9PM; BYOB, free!)
Ex-Matty and Mossy guitarist John Hunter's band Inoculist no longer calls H-town home, apparently (okay, the Myspace says "Brooklyn"), but it's still good to see 'em playing here again. The band's expanded somewhat since its time here, and now includes not only Hunter but a full bass-drums-keys setup. It's interesting stuff, although I'm having a hard time coming up with how to describe it...
And hey, there's also quirky psych-folkster Wols (who may or may not be a one-woman band, these days; I dunno), who was pretty good the one time I've seen her so far, back at those awesome Secret Saturday Shows. (I think that was Wols, anyway -- my memory's really going, I'm afraid.)

Runners-Up:
South By Due East 2010, featuring Rich Del Grosso, Nosaprise, Tyagaraja, Rozz Zamorano, Plump, Corey Stoot, D.R.U.M., Dubtex, Mr. Blacc Sheep, Bigga Star, Congas by Carlos, The Wrong Ones, Danny Kristensen, Ashton Taylor, No Borders, New Jack Hippies, Patrick Brink Big Band, The Hates, Shina Rae, Dr. Jeff and the Painkillers, Hueman, The Journey Agents, Suspenderman, Guy Schwartz, Karina Nistal, Kozzmik Steel, The Annoysters, The Deen Jones Experience, Allison Fisher, Buxton, Heroine Stereo, Alligator Assassins, & more @ Dan Electro's Guitar Bar (free!)
Finish First/Fingers Crossed/Pay It Forward/Cast Away/The Ride Home/They Lied @ The Junction
Witchaven/Hatchet/Termination Force/Owl Witch/Flesh Eater @ The White Swan
Hatred Surge/The Endless Blockade/Richard Ramirez/War Master/Concrete Violin @ Walter's

Labels: Flyeration, H-Town News, Musical Crap, Public Service Announcements, Things To Do
gaijin || Link || E-mail || 0 comments
All contents © 2010 Space City Rock, unless otherwise credited (photos used on the site excepted).