CATEGORIES
OUR FRIENDS
ARCHIVES
RECENT COMMENTS
OUR PICS
Cool New Regular-Type Shows: Landmark Music + Recession Thursdays [5/09/2008 02:06:00 AM]: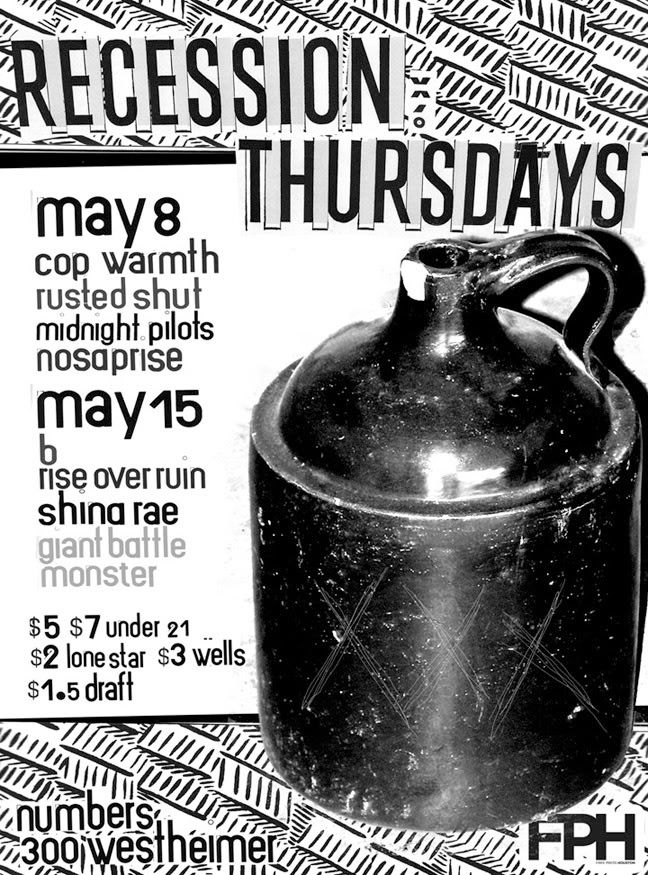 Okay, so y'all all know about the Secret Saturday Shows deal by now, and some have even been; I was fortunate enough to finally be able to drag my little girl out to The Shady Tavern for a surprise performance by Judas Bear a few weekends back, despite the moving insanity, and we both had a great time. (Thanks to the very kind lady who kept feeding my kid cheese puffs -- despite her continually plucking and chewing on blades of grass, I swear to God we do feed her. She was just in a bovine mood, apparently...)
Anyway, if you (like me) yearn for the days when regular, weekly-type shows happened all the dang time, well, you're in luck. First off, the ever-wonderful River Oaks Theatre is starting late-night local shows once a month on the Friday night before the monthly Rocky Horror showing. I hear the shows will be free, and they'll start around midnight(!) and run 'til 3AM or so. 'Cause, y'know, it's not a school night & you can wake up late the next day, right?
This sounds like a cool deal, and the first round of bands they've got slated is promising -- tomorrow night, Fri., May 9th, the first-ever installment of this thing will feature Future Blondes & Dead Roses, w/DJ Cub spinning before & in-between. And hey, you can't go wrong with good people like that...
Sadly, I kinda blew it on the other new "regular" show, the first of which was tonight & sounded very cool, as well. Damn... Those resourceful kids over at the Free Press Houston have started up something they're calling Recession Thursdays, which is basically a bunch of cool bands (all locals so far, I think) playing every Thursday night starting at 8PM for a measly $5.
I'm bummed at missing tonight's show, because I've been meaning to catch Cop Warmth for ages, love Rusted Shut with all the nostalgia my little heart can hold, and have heard good things about Midnight Pilots & Nosaprise. Sadly, I had yet to start wading through my email by the time the festivities kicked off, so I ended up, um, making brownies this evening, instead. (And this is without even my wife's prompting, mind you. Yes, folks, I'm that domesticated...) Anybody know how the show went?
The next set of bands plays Numbers Thurs. (duh), May 15th -- i.e., next week -- and includes B, Rise Over Ruin, Shina Rae, & Giant Battle Monster. Oof. Omar at the FPH promises that they've got a shitload more cool bands for next month, including Basses Loaded, Satin Hooks, The Ton Tons, & The Gold Sounds (hell, yeah!).
So, there it is. Sorry about tonight's skippage, but dangit, we can't be everywhere at once. Check out these shows, though, and make sure they keep going...
Labels: H-Town News, Musical Crap, Public Service Announcements, Things To Do
gaijin || Link || E-mail || 0 comments
All contents © 2010 Space City Rock, unless otherwise credited (photos used on the site excepted).