CATEGORIES
OUR FRIENDS
ARCHIVES
RECENT COMMENTS
OUR PICS
Change-Up: Only Half of Yo Majesty Coming to Town (But Hey, Balls Deep!; UPDATED!) [1/16/2009 04:03:00 PM]:
[UPDATE: Okay, so I talked a bit w/Jacob about the "afterparty" show, and it turns out that yep, it is really an afterparty, music-wise -- it's the DJing that starts at 9PM. The actual live music-ness, with Balls Deep & Shunda K, kicks off at 11:30PM, after the "main" Yo Majesty show. Got it? Good...]
Bad news time (well, halfway, anyway)... Turns out Jewel B of raw, street-science Christian hip-hop act Yo Majesty won't be at the duo's show this coming Saturday, January 17th at Walter's. Their PR guy says it's "due to personal reasons making it impossible for her to travel," so we'll have to take that for what it's worth and enjoy Shunda K, the other half of the duo, instead.
Besides, there's plenty of other badass folks playing, like Londoner Natalie "The Floacist" Stewart, who comes off to my Americanized ears like a more positive-thinking, female Streets (or maybe an Anglicized Jean Grae?) and is pretty damn incredible, local hip-hop/rockers Tha Fucking Transmissions, and Nosaprise, about whom I've heard great things (but haven't seen yet; sorry!).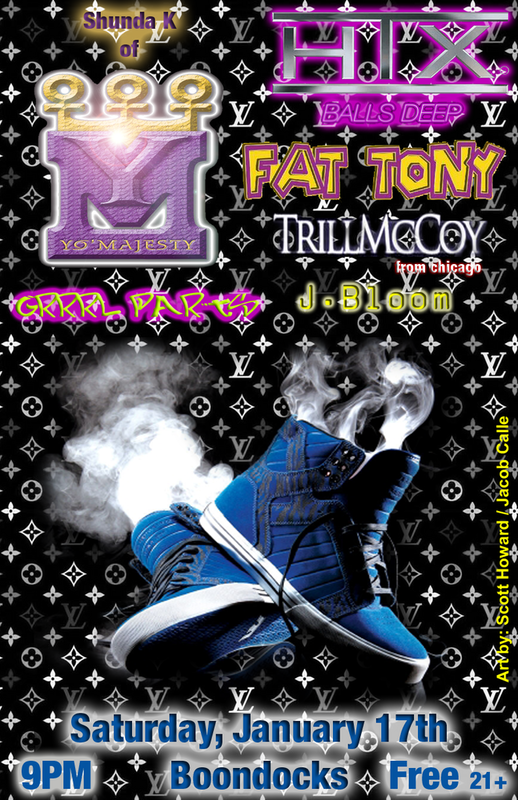 The weird part, though, is that there are apparently two shows going on the same night, both featuring Shunda K -- there's also an "afterparty" (banner above) over at Boondocks, this one including Shunda, Balls Deep (more on them in a sec), Fat Tony, Chicago's Trill McCoy, J. Bloom, & GRRRL Parts. Oh, and it starts at 9PM, while the "main" Yo Majesty/Shunda K show starts at 10PM. Wha? I've double- and triple-checked the dates to make sure I'm not confusing shit in my head (it happens, believe me), but honestly, it looks like some time-warpage, here.
On the good side, hey, you get two Shunda appearances for one, and she's supposed to be good solo as well as paired up. Plus, the folks playing the "afterparty" show are damn good, too -- Fat Tony's cool, and what I've heard about local hip-hop/comedy trio Balls Deep is fucking insane...
Admittedly, I dunno if I'm going to be listening to Balls Deep on a regular basis or anything, but hey, who doesn't feel like listening to some raunchy, lo-fi, tongue-in-cheek (I think), Autotuned, flat-beat-havin', distorted-vocals electro/hip-hop tracks like "My Dick's In Mississippi" or "Hoes"? It's like screw taken to its obvious, sad, weird, kinda hysterically funny extreme. C'mon, there's a time for everything, y'all.
Oh, and for the scene followers out there, the group's Balls Deep himself (aka Richard Gass) on lead vocals, Feel Collins (aka Jacob Calle) on backups, and Teen Wolf (aka Scott Howard) on backups & sax. Wherever/whenever you see the people above, you're going to be witnessing some good shit...
Labels: Entertainobabble, H-Town News, Musical Crap, Public Service Announcements, Things To Do
gaijin || Link || E-mail || 0 comments
All contents © 2010 Space City Rock, unless otherwise credited (photos used on the site excepted).