Tonight: Featherface (Reviewed!) + The Fox Derby + The Rocketboys + Holy Fiction + Misfits + Chase Hamblin + More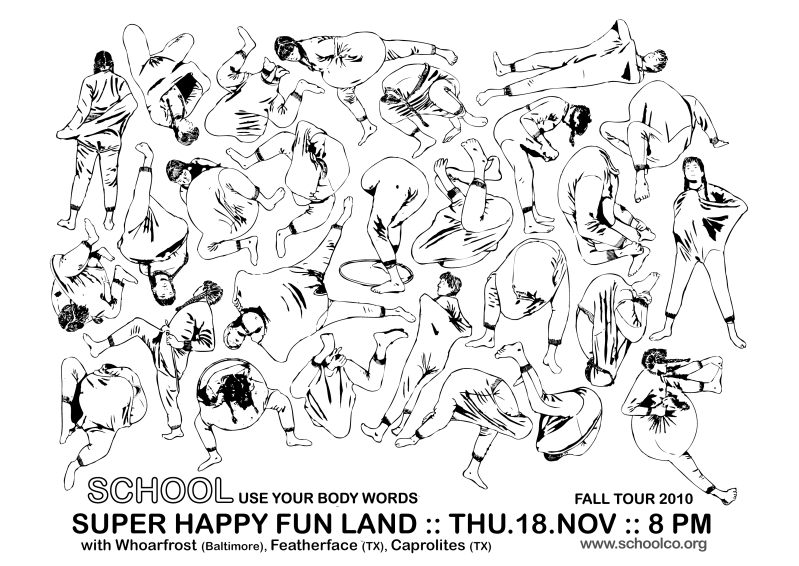 What? It's Thursday, seriously? You couldn't tell it by looking at the schedule, I swear… There's a crap-ton of good-sounding stuff going on tonight; I don't have the brainpower left to talk about all of it, but here's what looks cool:
SCHOOL/Whoarfrost/Featherface/The Caprolites @ Super Happy Fun Land
I dunno most of the folks playing up at Super Happy tonight, sorry, but I've been spending a hell of a lot of time lately with Featherface's latest EP, It Comes Electric, and I'm damn impressed with the band's woozy, sometimes prog-y, fresh-faced amalgam of psych-rock and, er, other stuff. My favorite track seriously makes me think of OK Go pretending to be Animal Collective, and that's a pretty great thing. Check out the full review over here.
Ellypseas/The Fox Derby/Hiss & Hum @ Fitzgerald's
Got a hold of The Fox Derby's debut EP, Regular Dreams, not too long ago and was blown away by it, as well. The band plays seriously Brit-pop-influenced songs that sail serenely along, right into your brain, complete with intricate pieces that seem like they're so delicate they're about to fall apart the whole damn time (but thankfully, they never do). Like the above, this is seriously awesome stuff, particularly "Hold On The Brakes". Full review over here.
The Rocketboys/Holy Fiction/Dignan/Sunrise & Ammunition @ Walter's
I'd honestly meant to try and check out Austin-dwellers The Rocketboys a bit more closely before this show rolled around, and dangit, now I'm wishing I'd listened sooner… These guys plays some gorgeously sweeping (yet still low-key) chamber-pop/indie-rock, and it's ridiculously lush & beautiful, seriously; in fact, they remind me a heck of a lot of show-mates Holy Fiction (who are from here, btw), in that both craft these grand, eloquent songs that sound like they should be echoing off of mountaintops somewhere.
Misfits/Juicehead/Necrofaith/Dickey Hands @ Warehouse Live
Not the original band, no — the current lineup's apparently Jerry Only, Dez Cadena, & Robo — but hell, it's still the Misfits, right?
Tenuto Music Series, featuring Chase Hamblin @ 13 Celsius (3000 Caroline)
Missed out on most of the second set of Tenuto Music Series shows, sadly, due to being sick & swamped with other stuff, so I didn't want to skip past this one, too. Chase Hamblin is a heck of a musician, the kind that feels like he's dropped out of the time he was born in and into our current age of mass-produced crap. Checking him out at a winebar may seem a bit on the yuppie side for some, but he's worth it — and hey, Series organizer Benjamin Wesley recommends 13 Celsius, so that's got to count for something…
Jefferson Starship @ Dosey Doe Coffee Company (The Woodlands)
Um. What? Wow. Yeah, okay, so it really is them — well, some of 'em, at least. Not that I've ever been a huge fan of any incarnation of the band, but still, this makes me kinda sad.
Runners-Up:
Mike Stinson @ McGonigels Mucky Duck
The Supervillains/Ballyhoo/The B Foundation/The Failed Attempt @ Fitzgerald's
Backsliders/The Wheel Workers @ Rudyard's
C4 Band/Golden Arrow Holy Face @ Mango's
Dustin Welch/Matt Harlan/Sideshow Tragedy/Beetle @ The Continental Club