Yr. Weekend, Pt. 1: Dawes + Peter Wolf Crier (MP3s) + Romany Rye (MP3) + The Fox Derby (Reviewed!) + Born Liars + More
Yep, another weekend is upon us, and once again yours truly will be (sadly) headed out of town. Argh. It sucks, because there're quite a few good shows going on this weekend; most are tomorrow night, mind you, but there's still some good stuff happening tonight, Friday, October 22nd. Here's what looks/sounds good to me:
Dawes/Peter Wolf Crier/The Romany Rye @ Fitzgerald's
Hadn't heard much of these folks before this week, I'll grant, but what I've been able to listen to in that time has planted this show firmly at the top of my list for this evening. Headliners Dawes (who're apparently part of some "Laurel Canyon Sound" pseudo-movement, but eh) are West Coast roots-pop at its best, like The Eagles minus the lameass radio-pop, plus Gram Parsons' long-lost soul, and with an added shot of Ryan Adams coolness.
For their part, duo Peter Wolf Crier are shambling, murky, jangly-as-hell folk-pop that nods backwards but doesn't live there, instead preferring to roam the modern interstates like an indie-fied, twisted-mouth reincarnation of the Sand Rubies. And then there's The Romany Rye, who ramble along in full-fledged alt-country style, reminiscent of the best moments of The Jayhawks or H-town's own Literary Greats, complete with a great, great organ sound.
Here're a few tracks to whet your whistle:
Peter Wolf Crier – "Crutch And Cane"
Peter Wolf Crier – "Hard As Nails"
The Romany Rye – "Untitled (Love Song")
All in all, it's an impressive lineup, particularly for those who dig the whole roots-rock/folk-pop thing.
The Selfless Season (CD release)/The Fox Derby/Finnegan/Jeff Boortz Band @ Dean's Credit Clothing
Dunno most of these folks, but I've heard good, good things about Finnegan, and more than that, I've been totally bowled over recently by The Fox Derby. I've spent a fair amount of time lately with their debut full-length, Regular Dreams, and it's very, very cool, like The Long Winters or Decemberists playing a weird combination of early-'90s Britpop and mid-'90s emo-ish indie-rock. Full review on over here, should you be interested.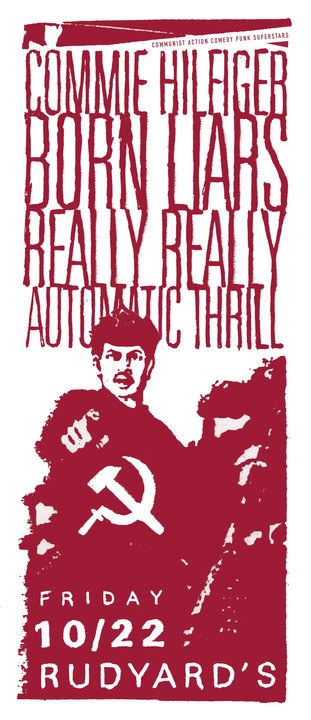 Born Liars/Commie Hilfiger/Really Really/Automatic Thrill @ Rudyard's
Another one where I'll freely admit I dunno the bulk of the bands playing (sorry!), but I'd cheerfully crawl over broken glass to get to the next full-length by the Born Liars, I honest-to-God would — Ragged Island is an awesome, awesome chunk of garage-y, bluesy, boozy genius, one that's been living in my car since I first heard it. These guys are freaking great, no two ways about it.
(And yeah, I also happen to think Commie Hilfiger is a pretty hysterical name for a punk band.)
Krullur/El Desmadre/PLF/Chocolate Crucifix @ The White Swan
I consider myself a metal fan, to be sure, but hell, I like to think I can take a joke, too. So I'll admit that I grin while listening to the messy, spastic, "are-they-serious?" blast-noise of Chocolate Crucifix, and the same kinda-sorta goes for Krullur, whose brand of speeding, halfway-collapsing metalcore is dumb fun. Plus, I love thinking that the band named themselves after a type of pastry. Now that's metal. (Wait, what? They didn't name themselves after krullers? Ah, shit.)
Runners-Up:
Virgin White (CD release)/Say Say Say/Cb Kings/Legacy Fails/The Ride Home @ Warehouse Live (Studio)
Paul Oakenfold/Calvis Harris/Kenneth Thomas @ Stereo Live
Ben Labat and the Happy Devil/Katie Stuckey/Picture Book @ The Continental Club
Changoman/Los Lunas/Los Pistoleros @ Walter's
Mama Tried @ Mango's
Arsonists Get All the Girls/Within The Ruins/Ion Dissonance/And Hell Followed With/Destruction of a Rose/ Struc/tures/Pacifist/All The Way To The Bank/Invain/The Nephilim Terror @ Shadowplay Lounge (The Woodlands)