Yr. Weekend, Pt. 1: Linus Pauling Quartet (Rev'd!) + El-P + Arthur Yoria + Beat Connection + More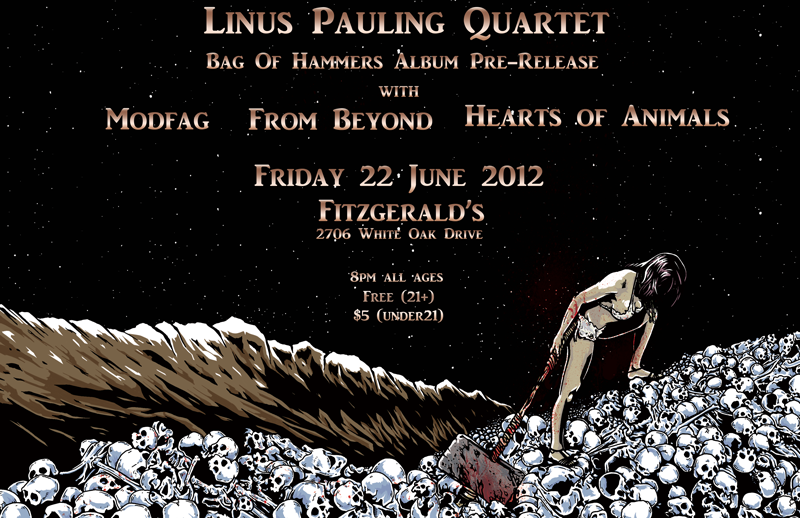 Aaaargh. How does this happen? I always, always plan to get this shit posted earlier, and yet, without fail, things conspire to stop that from happening. sigh. Sorry about the slowness, y'all, but there's still some really great stuff going on tonight, Friday, June 22nd. Here goes:
Linus Pauling Quartet (album pre-release show)/Modfag/From Beyond/Hearts of Animals @ Fitzgerald's
Oh, yes. (And then, "ah, fuck," when I realize I'm stuck here at the house.) The Linus Pauling Quartet have worked their way into being one of my all-time favorite Houston bands ever on a couple of fronts: 1) they don't take themselves at all seriously, but are basically doing this because it's fun; and 2) in spite of not taking themselves seriously, they fucking rock the paint off the walls of your goddamn house.
Tonight's the "pre-release" show, by the way, for the band's brand, brand, brand new double-LP release (the first actual album in five years, if I remember right), Bag of Hammers, which means that while the album's not officially released yet, the LP4 guys will have copies on hand for us lucky Texans.
And holy fuck, do you want a copy. No, really, you do — I can look directly into your brain right now and see that desire just sitting there, waiting to be fulfilled. (Don't make it angry.) Look over here to read a more fully-detailed explanation for the awesomeness, or just take my word for it, eh?
As an added bonus, promising newcomers From Beyond and the ever-great Hearts of Animals (Mlee Marie sings on BOH, so it's kind of a tie-in deal) will be opening; think of them as the icing on the cake…
El-P/Killer Mike/Mr. Muthafuckin' eXquire/Despot/Jabee @ Warehouse Live
Okay, here's where it starts to get difficult, y'all. Because you see, way back when I loved Company Flow — despite the fact that they never really reached the heights of fame, they are/were probably one of the most influential hip-hop outfits of the '90s, laying the groundwork for all those out-there, quasi-underground rappers like Danny Brown or Odd Future. Whether they know it or not, they owe those guys a big debt, because they were brilliant.
And a large part of that was rapper/producer El-P, who manages to make everything that comes out of his mouth sound dangerous and sci-fi and paranoid and great, all at once. The man stepped away from the mic and the limelight for — what, a decade? — and now he's back, and holy crap, nothing's changed (and I mean that in a good way).
Here's proof:
Fuckin' squirrels, man. They just don't know when to dial it back.
Arthur Yoria @ Cafe Brasil
The last I heard about Arthur Yoria, he was fleeing H-town for NYC. So when I saw this show up at Cafe Brasil pop up on my screen, I had to wonder if maybe, just maybe, he'd decided to head on back here? Maybe?
Sadly, that's not the case — these days, Arthur calls Palm Desert, California, home — but hell, that doesn't make him any less of an awesome, awesome songwriter/singer/musician. I'm always blown away by what the guy can do, I swear, whether it's his quieter guitar-folk moments, the sung-in-Spanish songs I can't understand, the sleek, sultry bedroom pop, or the whacked-out rockers about, um, his genitals. Well, well worth seeing and hearing, believe me.
Beat Connection/White Arrows/Brothertiger @ Fitzgerald's
I'd meant to review Beat Connection's new album, The Palace Garden, in time for this show, but dammit, I just couldn't make it work. Not that I didn't like the album, mind you, but just that I plain-old ran out of time this week. Which is a damn shame, because Beat Connection are pretty damn impressive, an electro-pop band that merges the swooning, lush electronics of M83 with a less-amped Reptar swagger and bounce, and then coats in all in a bright, shiny candy shell. If that doesn't sound good to you, well, I'm afraid we can't be friends.
Runners-Up:
Parabelle/H-Bomb Davis/Nava/Brompton/Rayne @ Warehouse Live (Green Room)
White Crime/Lazer C**tzz/Chubb Lakkke @ Mango's
Poor Dumb Bastards/Project Grimm/Luxurata @ Rudyard's
Buddy Guy/Jonny Lang @ Arena Theater
Kill The Rhythm (single release)/Life As Lions/Recovery Room/Suns Collide @ The Mink
Garland Jeffreys/Nick Gaitan & The Umbrella Man/Little Joe Washington @ The Continental Club