Yr. Weekend, Pt. 2: Linus Pauling Quartet + Project Grimm + Blackmarket Syndicate + Record Store Day + The Features + More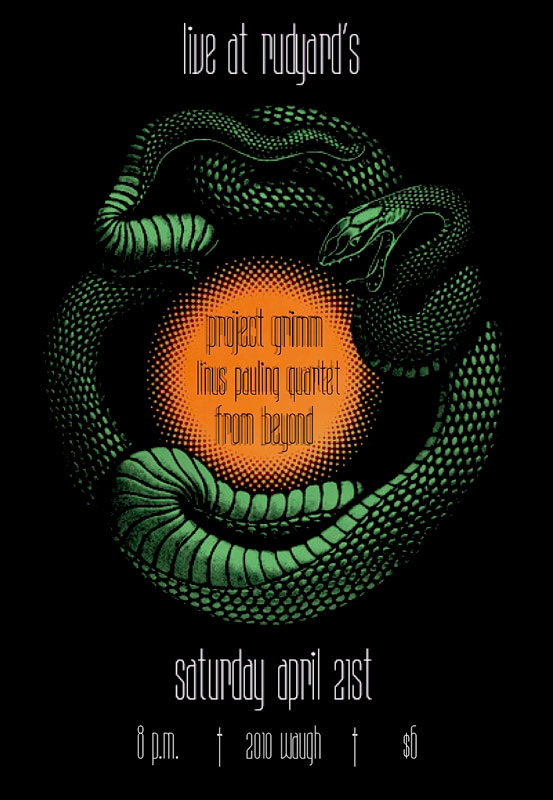 Moving on to Saturday, April 21st, and there's still plenty going on; got a crapload of stuff I need to get done this afternoon, so I'll get right to it:
Project Grimm/Linus Pauling Quartet/From Beyond @ Rudyard's
The biggie of the night, at least to me, this not only marks one of the all-too-rare performances by oldtime psych-rockers Project Grimm (who were already a band back when I first moved here) but also the start of the ever-great Linus Pauling Quartet's meticulously-planned onslaught, aimed at dominating the world prior to and after the release of the long-awaited Bag of Hammers. Keep an eye out for more shows in the run-up to BoH's release; I'll try to post more about the madness when I can…
Blackmarket Syndicate (record release)/The American Heist/Dead to the World/Skeleton Dick @ Fitzgerald's
Already pretty much covered this one on over here, so I won't belabor the point a whole lot beyond that, except to say that this is going to be one hell an old-school, streetpunk-style explosion.
Record Store Day, featuring The Manichean, Second Lovers, Eli, Poor Pilate, & Khruangbin @ Heights Vinyl (12:30PM; free!)
I really let Record Store Day creep up on me this year, I have to say — just had too damn much else to think about, frankly, and no money to spare for vinyl, however much I'd like to spend on it. And likewise, the various RSD-related activities have pretty much skated right by me; this is the only one I've run across, I'm afraid. But hey, at least it's a damn good lineup, with dramatic rockers The Manichean, promising-sounding Second Lovers, and cool pseudo-folkies Poor Pilate.
BuzzFest Twenty-Eight, featuring Korn, Evans Blue, Evanescence, The Dirty Heads, Blue October, Cage The Elephant, Mute Math, Foxy Shazam, The Features, Neon Trees, Dead Sara, Hurt, Aranda, & more @ Cynthia Woods Mitchell Pavilion
Korn? Evanescence? Meh. But The Features, seriously? Do they even get played on The Buzz? If so, that's freaking great; last year's Wilderness was a great retro-rock blast, especially "Fats Domino."
26th Annual Texas Crawfish & Music Festival, featuring Cody Canada & The Departed, Marcus Ardoin, Rhett Miller, Folk Family Revival, Brad Randell & The Zydeco Ballers, Shooter Jennings, Davin James & The Bullnettle Band, Fred Rusk & The Zydeco Hi Steppers, Charles P. and The 10%, The Literary Greats, Tuna Sin, Kenny Courville, Kozmic Pearl, Miss Leslie & Her Juke-Jointers, & DJ Vinyl Ranch @ Old Town Spring (Spring)
I've never been to any of the "big" music festivals out beyond the Beltway, sadly — the midgets kind of restrict our movements, most weekends, unless it's a festival-type thing I can plan for well in advance — and days like this make me wish I had. I mean, not only is Rhett Miller one of the headliners, but the organizers have also brought in some excellent locals, folks like the countryish indie-rock outfit The Literary Greats, great, great roots-rock band Folk Family Revival, and the amazing throwback country of Miss Leslie & Her Juke-Jointers. Virtual high-five to y'all for that one.
Runners-Up:
Art Institute/Biscuit Bombs/Psychic Palms @ Lee and Joe Jamail Skatepark (110 Sabine)
Houston International Festival, featuring Karl Morgan Band, Austin Piazzolla Quartet, Eljuri, Los Lonely Boys, Ruthie Foster Band with Hadden Sayers, Jesse Dayton, Natya Upasana Indian Dance Academy, Sur, The Olympian Dancers, Luna Argentina Folk Dancers, Los Amigos Invisibles, Hadden Sayers Band, Texas Brass Band, Mixteco Ballet Folklorico, Pablo Fernandez, Dance Milonga, Ari-Kang Korean Folk Dance Troupe, Hector Del Curto Tango, Espantapajaros, Tribal Lillies, Mauro and Elizabeth, Brazilian Nuts Band and Dancers, Raices Del Peru, Capoeira Luanda, Texas Brass Band, Los Bombos Argentinos, & Ballet Folklorico Azteca de Houston @ Downtown Houston
Doc Marshalls @ Goode's Armadillo Palace
HFT Freedom of Choice: An Anti-Drug War Benefit, featuring Cop Warmth, BrokenQuote, Wayword, Lazer Cuntzz, excuseMeSir, Shut Up Sidney, & Downer @ The Mink (7PM-2AM)
DevilDriver/The Faceless/Dying Fetus/Job For A Cowboy/3 Inches of Blood/Impending Doom/Wretched @ House of Blues
Second Lovers (acoustic)/Fox & Cats/Daphne @ Mango's
DeadEye (Grateful Dead tribute)/The Journey Agents @ The Continental Club