Yr. Weekend, Pt. 2: Prince Paul + Mikey & The Drags + Rock Portraits Afterparty + Muhammad Ali + Peloton + More
Holy crap, there's a lot going on today. It's a Saturday (August 20th, specifically), which generally tends to be busy to begin with, but damn. I'm afraid I'm not going to be able to talk about all of it, for the sake of my general sanity, but I'll hit as much as I can.
Pretty much whatever you feel like doing, this evening's got your back. You can hit Fitzgerald's, for one thing, to catch hip-hop legend Prince Paul, whom I love dearly not only for making De La Soul what they were but also for freaking inventing the whole horrorcore rap subgenre with Gravediggaz (although I kinda cringe when I think about that group's spiritual descendents in the ICP/Juggalo clan). The guy's a master.
On a bit more chilled-out front, you can head over to Mango's to catch a quartet of very cool-sounding bands, Mikey & The Drags, Bang Bangz, Second Lovers, & PAPAYA — I'm afraid I have yet to hear any of 'em beyond Second Lovers (who are interesting, although I need to hear more), but the bands' pedigrees are pretty impressive all by themselves. See, Mikey & The Drags is the new project of Miguel Ponce, formerly the frontman of one my favorite H-town (or anywhere, really) bands that died too, too early, The McKenzies; this'll apparently be the band's first show.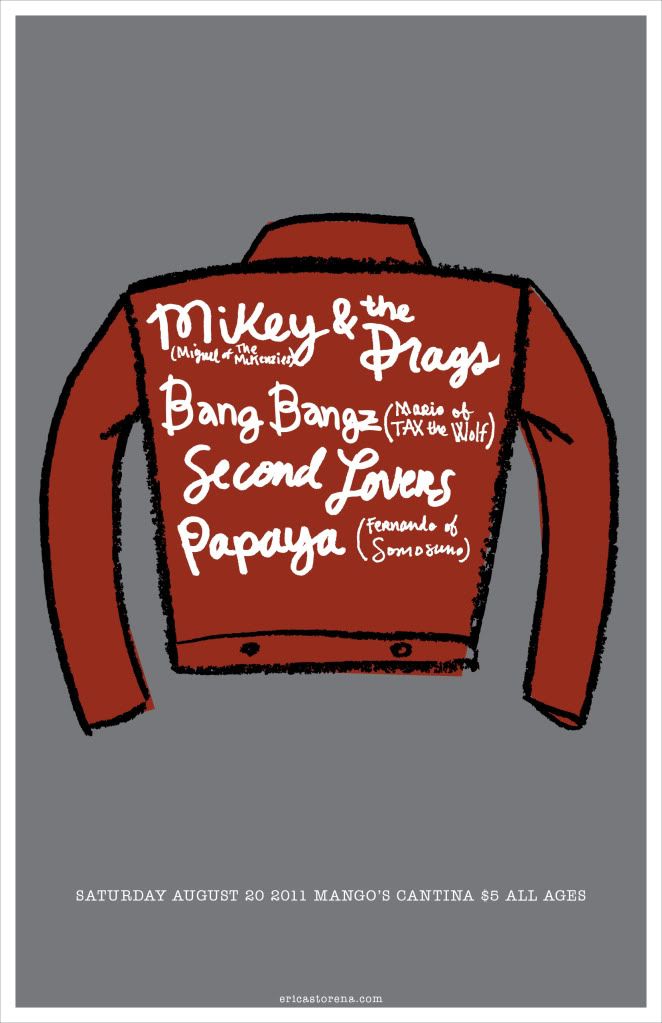 As for Bang Bangz, that one's a new side project-type deal by Mario from Tax the Wolf, whom I like a hell of a lot — again, I have yet to hear it, but I can't help but think it's going to be good, just based on his "other" band. Then there's PAPAYA, which has already been around a little while; that's the new project (side project?) of Fernando from Somosuno, and I've heard great things about Somosuno and PAPAYA, so…
If you're looking for something slightly more artsy, you can always head over to Warehouse Live, where there'll be an afterparty for the Rock & Roll Portraits show at Catalina Coffee. It's a showcase for the work of ridiculously young (he's 11, for crying out loud) yet gifted photog Jackson Potts II, and some of the bands he's photographed will be playing at the afterparty, including the mesmerizing Sara Van Buskirk, entertaining alt-rockers The 71′s, and the Official (As Declared By Me) Coolest Dude In The Universe, one-man-band Benjamin Wesley. (Check out Bru's nice piece on Potts & his photography over at 29-95.com, btw.)
Head on up to Downtown if you want to witness some raw, raw, drunk-as-fuck indie-rock/punk goodness, because Muhammad Ali will reportedly be demolishing Notsuoh alongside College Station-dwelling headliners The Ex-Optimists. While you're there, if you want to dip your toes deeper in the puddle of weird loudness, slide on over to Super Happy Fun Land to catch their Super Happy Leo Party and Ukulele Festival, which features — yes, you guessed it — lots of ukuleles, along with a fair dollop of strangeness. If you go, be sure to wish Poopy Lungstuffing a happy birthday, eh?
Speaking of birthdays, on down into Midtown, there's a nice bill of loud, prog-y metal/rock going on at The Mink, including Landfill (who I've heard are good), newcomers Harold Borup, infiniteskyfoundation, and the mightily impressive Peloton, all of whom will be celebrating Peloton singer Denniz Trauma's day of birth. Seriously, I really like what I've heard of Peloton so far — see the review of their most recent EP over here.
That'll be in the front bar, mind you, and there's a very different — but still interesting-sounding — show going on in the back room. The surprisingly-local (and totally un-Googleable) New York City Queens will be playing what I think is their debut, and they're doing it with Mia Kat Empire signees Via Cavour (who I hear are very cool) and the awesomely strange Wicked Poseur right alongside 'em.
Honestly, I thought I'd hate NYCQ (that's apparently what the Queens go by), but I'm kind of digging the minimalist electronics and strummy guitars on this video:
A couple of benefits are going on tonight, too; there's the benefit show at Dan Electro's to help musician Steve Torres with some medical bills, which includes Journey Agents & You(genious), among others, and then up at BFE Rock Club there's the Metal for Child Advocates show, which features a bunch of scary-looking, good-hearted metal dudes with tattoos and weird stage makeup who're raising money to help the Child Advocates group fight child abuse. A damn good cause, if you ask me…
Back in the center of town, you can head over to the Jet Lounger/ECHO (or whatever) to catch an interesting lineup of bands, including roots-tinged alternarockers Rainchild, who surprised me with some damn fine guitar work and a nicely restrained sound for being pretty much Buzz-friendly, and Hero Pup, a trio of folky/jazzy, laidback jangle-pop guys who sound pretty promising, in a mid-'90s pop kind of way. (And yes, they started in Austin and then moved to Houston, so they get respect from me for that seemingly ass-backwards move all by itself.)
Last but not least, those down on the south side of the H-town area can meander on over to the Union Tavern in Webster and be bowled over by the rollicking, oddly mishmashed ska-salsa-folk-etc. sounds of Come See My Dead Person, who've climbed steadily to the top of my personal list of bands I need to see sometime soon, and rough-edged Irish folk-punks The Dead Rabbits, both of whom are very cool.
Full, long list, right here:
The Ex-Optimists/Muhammad Ali @ Notsuoh
Prince Paul/G.wizz/La Catrin/Brandon West & The Black Hats @ Fitzgerald's
Mikey & The Drags (ex-McKenzies)/Bang Bangz (mem. of Tax the Wolf)/Second Lovers/Papaya @ Mango's
Super Happy Leo Party and Ukulele Festival 2011, featuring Poopy Lungstuffing, Cowboy Indian Bear, The Grass Skirts, Organ Failure, The Annoysters, Jacob Kibler, & Braggart Family SideCircus @ Super Happy Fun Land
Metal for Child Advocates Benefit, featuring Series Six, Perfect Disease, The Hectic, Metal Maiden, Failed to Reason, Blood Rooted, Bagheera, Mercy!, Saxon King, & Shadow Code @ BFE Rock Club
Denniz Trauma's Birthday Show, featuring Landfill, Peloton, Harold Borup, & Infinite Sky Foundation @ The Mink
Rock & Roll Portraits Official Afterparty, featuring Sara Van Buskirk, Kuumba Freeque, Cody Jasper, The 71′s, Knifight, & Benjamin Wesley @ Warehouse Live (Green Room)
Liquid Kitchen/Monodrive/Rainchild/Hero Pup/Braker Lane @ Jet Lounge/ECHO
Come See My Dead Person/The Dead Rabbits @ Union Tavern (Webster)
New York City Queens/Via Cavour/Wicked Poseur @ The Mink
A Benefit for Steve Torres, featuring The Journey Agents, The Texas Heat, & You(genious) @ Dan Electro's Guitar Bar (2-6PM)
Changoman/La Skaretas/Triple @ The Continental Club
Classixx/GRRRL Parts/Best Legs @ Boondocks
Galveston Bay Foundation Benefit, featuring Zentropy & Jimmy Lee Deen @ Last Concert Cafe
Beans Barton & The Bi-peds/Tribal Lillies Belly Dance Troupe @ Dan Electro's Guitar Bar