Yr. Weekend, Pt. 1: This Year's Tiger + Born Again Virgins + Holy Fiction + The Canvas Waiting + Upcoming Stuff + More
Heading on into the weekend, y'all, so here's our semi-regular rundown, again in its kinda-sorta-expanded form. (Although I have to admit that I did like doing last week's quick blast-out of everything…)
Before I get into it, though, I've been going through ye olde shows list and run across some cool/noteworthy upcoming stuff that's a wee bit further out than the next few days:
On March 3rd, Warehouse Live is hosting the second installment of the Canned Acoustica show it ran last year, which is very cool.
Hrm. On March 6th, I'm seeing listings for excellent trad-ska guys The Slackers at both Warehouse Live and Fitz…and since I doubt the band's going to be playing two sets at two different venues, I'm guessing one of 'em's incorrect. Anybody know?
The Mink's definitely got some good stuff coming up, like Damien Jurado, David Dondero, & Franz Nicolay (aka That Guy With The Insane Mustache Who Used to Play in The Hold Steady) on March 16th.
On March 25th: holy shit, Devo! Plus The Octopus Project! Sweeeeet.
Warpaint are coming back through town (yet again) on April 8th at Fitz (where else?).
On April 9th, Maserati are playing The Mink.
For those with tickets to see Willie Nelson last weekend, the show's been rescheduled for April 28th at the Verizon Wireless Theater.
In bad news, it looks like Freelance Whales won't be playing Fitz on April 19th like I'd been told; instead, it'll just be Foals (who are still very cool) & The Naked and Famous. Dang.
What the…? Yes, it's true: The Jon Spencer Blues Explosion are playing Warehouse Live on May 5th. Now I need to go dig out Orange…
And pegging the needle right to the top of my Excite-O-Meter, The Raveonettes are playing at Fitz on April 13th. Hell, yes.
phew. Okay, enough of that; on to the more immediate stuff going on tonight, Friday, February 11th:
This Year's Tiger/Born Again Virgins/The American Heist/All At Sea @ Rudyard's
Melodic, rough-edged punks, here you go. I'm psyched as hell that This Year's Tiger is playing again (hopefully regularly?); they've been seriously way too quiet, esp. for such a badass band. Raw, fists-in-the-air, hearts-on-sleeves punk rawk that brings to mind the rootsier side of Avail or a less rockabilly Social Distortion.
There's also full-on rawkers Born Again Virgins, who rock a murky, Barkmarket-like bassline and graft it onto slashing, howling, metal-tinged rock that's reminiscent of Federation X or Red Fang in the best possible way. Keep an eye on these folks. And I can't leave out All At Sea or The American Heist, both of whom I've heard good things about…
The Canvas Waiting/Holy Fiction/Finnegan/The Shallows/Education @ Fitzgerald's
It's a hard call which of tonight's shows is my favorite — TYT, above, are pretty great, but so are Holy Fiction, albeit in a totally different direction. The Holy Fiction gang make this amazingly laid-back, "world music"-y, almost spiritual-sounding rock that's epic and beautiful and everything else, and their full-length from last year is in my top-ten list of everything I've heard from that twelve-month stretch. It's seriously that good.
Beyond that, Austinite headliners The Canvas Waiting aren't bad themselves, by any stretch — I've heard Chasing Color, their latest, and it's cool in a shy-boy post-emo rock kind of way (think Copeland, maybe). Well worth seeing/hearing.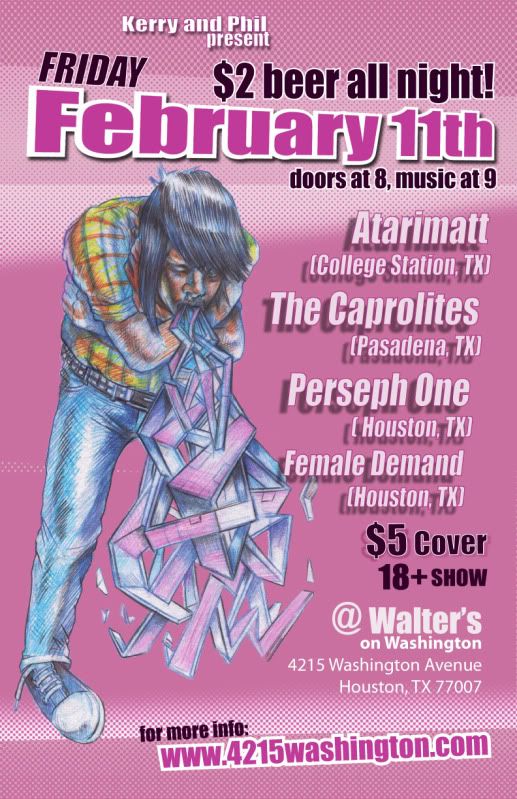 Atarimatt/The Caprolites/Perseph One/Female Demand @ Walter's
An odd, odd, entertaining bill, right here… There's College Station-dweller Atarimatt, whom I've encountered a few times & who is extremely bizarre (yet still kinda neat), plus scummy noise-punks The Caprolites, plus heavy-ass, melt-your-brain instro-prog duo Female Demand, plus — last but definitely not least — whip-smart rapper Perseph One. Something for everybody at Walter's, tonight.
iFest Concert Series 2011, featuring Joe Ely Band with David Grissom & Mike Stinson Band @ Rockefeller Hall (3620 Washington)
I'll admit that I'm not a huge fan of Joe Ely or the Mike Stinson Band — nothing against either of 'em, mind you — but I am a fan of iFest, and I think it's cool to see a show like this that's aimed at raising money for the festival's educational aspects. The festival's one of H-town's truly great institutions; help keep it running.
Runners-Up:
John Evans/Johnny Falstaff/Hank Schyma (CD release) @ Heights Live!
Robin Trower @ House of Blues
Big Freedia/DJ Rusty Lazer/DJ Good Grief @ Fitzgerald's
Continental Graffiti/Picture Book @ The Continental Club
Big Sam's Funky Nation/Zwee @ Dan Electro's Guitar Bar
Blaggards @ R&R Sports Bar (Friendswood)