Yr. Weekend, Pt. 2: Indian Jewelry + Roky Moon & BOLT Do-Over + Girls Rock Camp + Temporary Insanity II + Jesse Dayton + More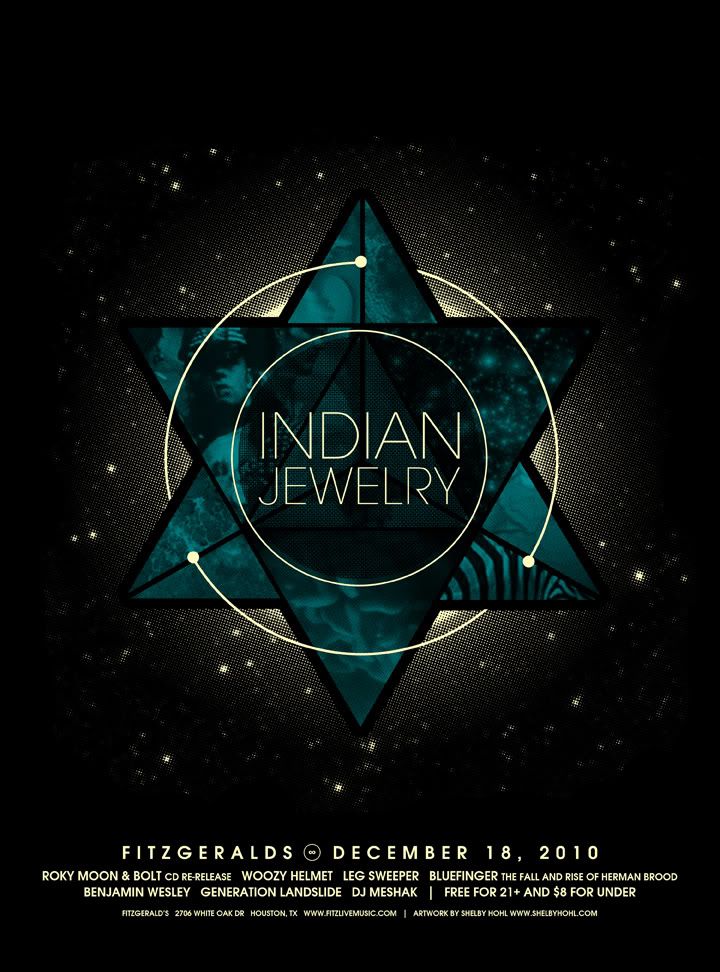 Day 2 of a busy-as-hell weekend… Today (Saturday, December 18th) is a pretty massive one, particularly on the local front — and believe me when I say that that's nothing to sneeze at. Anybody who thinks nothing worth listening to comes out of our fair city flat-out needs to get their ass out and about tonight, whether they hit downtown (Notsuoh/Dean's), the Heights (Fitz, Walter's), Montrose (Rudyard's), Midtown (The Mink), or wherever else.
Here's what I think looks good:
Indian Jewelry/Roky Moon & BOLT (LP release do-over)/Paris Falls/Woozyhelmet/Leg Sweeper/Bluefinger/Benjamin Wesley/Generation Landslide/A Thousand Cranes/DJ Meshak @ Fitzgerald's
My personal biggie of the night… This one would've been great if it were just headliners Indian Jewelry, with their crazed, doom-y, murky death-groove tribalism, but the added bands make it mind-blowingly awesome.
Plus, this is a do-over for semi-headliners Roky Moon & BOLT — at their album release last month at The Mink, apparently the PA blew out and cut the show short, so the band decided they owed it to their fans to rewind & do the show a second time. If you have yet to see these folks, you really need to; they're a hell of a lot of fun.
On top of all that, the other bands playing are like a who's-who of amazing bands I love, from classic rock re-invigorators Paris Falls to quirky/loud popsters Woozyhelmet to one-man jam-band/hypnotist Benjamin Wesley to cool, strange experimenters A Thousand Cranes. And then there's what was supposed to be ex-Sprawl frontman Matt Kelly's band Lick Lick…which is apparently now going to be playing as "Bluefinger", from the recently-running play of the same name at the Catastrophic Theatre.
Girls Rock Camp Houston Christmas Benefit, featuring Linus Pauling Quartet, Anarchitex, & Omotai @ Rudyard's ($7-$10 suggested donation)
A great cause — the Girls Rock Camp Houston crew, prepping for their second run of the camp next summer — plus great bands — esp. stoner-rock dudes the Linus Pauling Quartet and crush-your-skull metal guys/girl Omotai — equal a truly badass show. See more over here…
Temporary Insanity, featuring Fungi Girls, Rayon Beach, The Energy, The Hex Dispensers, Dikes of Holland, Cowabunga Babes, The Uptown Bums, OBN III's, The Wiggins, The Caprolites, Funboys, The Cutters, & Low Times @ Notsuoh/Dean's Credit Clothing (7PM-2AM; $8)
Temporary Insanity Record Swap, featuring The Busy Kids, Bottle Service, A Giant Dog, Come and Take It, Dead Tooth, Muhammad Ali, Jason Puffer, Omar Olivares, & Cody Leitholt @ Vinyl Junkie (12-6PM; free!)
And Day 2 of the Temporary Insanity fest, this time both in downtown and over near the warehouses at Vinyl Junkie — the Record Swap deal sounds very cool to me. Plus, there's still a crapload of great bands playing, notably The Wiggins, The Energy, Muhammad Ali, & The Busy Kids. $8 is a measly, measly amount to pay for stuff like this, seriously.
For more on this one, check out here, here, here.
Jesse Dayton @ Monnalisa (Hotel Sorella, CityCentre, 800 W. Sam Houston Pkwy)
Honestly, I hadn't thought much about Jesse Dayton in quite a while now — he'd drifted off to Hollywood, it seemed like, doing the "Captain Clegg" thing with Rob Zombie, and coming back home to H-town to make music again didn't seem like it was in the cards. It seems, however, that Dayton's not done with his music yet, and he's back in town right now & making/playing music. Which is a very cool thing, in my book.
Runners-Up:
The 2nd Annual FEED HOUSTON Food Drive & Concert, featuring Bun B @ Warehouse Live (free w/non-perishable food item)
Anti-Christ Mass XIII, featuring Teratism, HOD, Morbus 666, Uncleansed, Death Rites 666, Funeral Rites, Cronophage, Spectral Manifest, Nemontemi, Cerebral Riot, Venomous Supremacy, Sculpting Atrocity, & Bound In Flesh @ Walter's ($13; 5PM)
Martin Burniston's 20th Annual Christmas Singalong @ McGonigel's Mucky Duck
Celtic Christmas @ The Meridian
HYPE!, featuring boyhoLLow, GRRRL Parts, Damon Allen, Rezrekt, DJ Czech One, & Stagger Lee @ The Mink
duneTX @ Big Top Lounge
Blaggards @ Olde City Pub
John Egan @ Cactus Music (3PM)