Yr. Weekend, Pt. 2: Roger Waters + Fallcore 2010 + Via Colori + Girl In A Coma + More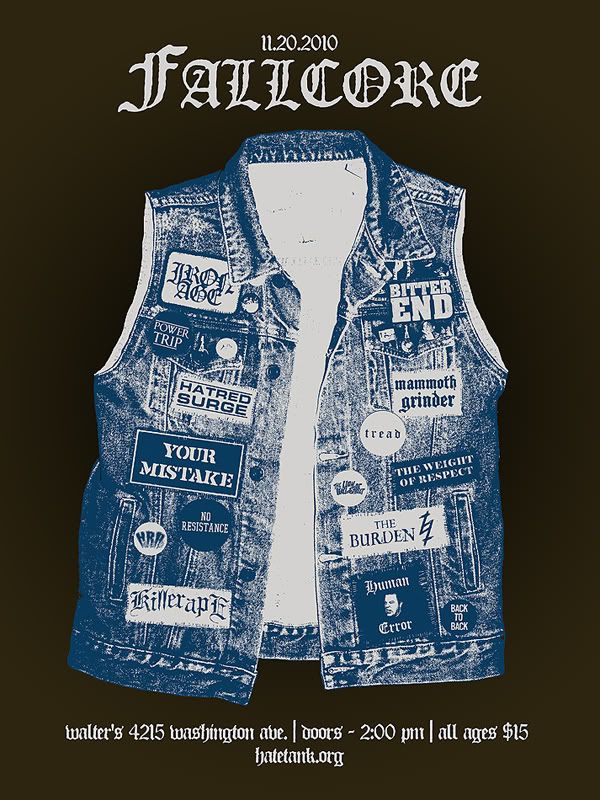 Day 2 of a fairly show-packed weekend — coming up on Saturday, November 20th, and it definitely is a busy day, all 'round. Here goes:
Roger Waters (performing The Wall) @ Toyota Center
Yep, that Roger Waters, playing his classic album, the one he's probably best known for around the world, in its entirety. I'm actually more of a Dark Side of the Moon fan, myself, but I'll admit that seeing/hearing any Pink Floyd album performed like this sounds pretty badass.
I can't claim to be all that huge of an authority on Waters' work, btw, but hell, you don't have to listen to me; head on over to Houston Calling, where David's been doing an excellent countdown to this show for the last 10 days or so. He's got all kinds of stuff up in anticipation of the show…
Fallcore 2010, featuring Bitter End, Power Trip, Mammoth Grinder, Tread, Hatred Surge, Your Mistake, The Weight of Respect, The Burden, No Resistance, Killer Ape, Machine Gun Romantics, H.R.A., The Lion of Wall Street, Back to Back, & Humanerror @ Walter's (2PM-2AM)
Another of the "big" shows of the day, this year's now-classic Fallcore festival up at Walter's. And as usual, the Hate Tank folks have pulled together a heck of a lineup, from heavy-ass grindcore bands to streetpunk to metalcore & beyond.
Unfortunately, headliners Iron Age have dropped off the bill, but Machine Gun Romantics are a late addition, instead (playing last, I believe). And hey, there're some damn good bands playing, nonetheless, like classic local hardcore dudes Will to Live/The Weight of Respect, protest punks No Resistance, and beloved Austin death metallers Mammoth Grinder. Hardcore and metal fans, this is where you need to be.
Via Colori: The Street Painting Festival, featuring James Caronna, The Texas Toast, Pistoleros de Texas, Jerk Store, Kristine Mills, D.R.U.M., Flying Fish Sailors, & Benjamin Wesley @ Allen Parkway & Bagby St. (10AM-6PM)
Yep, already talked about this one a bit, but it deserves another thumbs-up from us right here. Cool street art, cool music, and for free — can't beat that.
The Dresden Dolls/Girl In A Coma @ Fitzgerald's
I'm up & down on The Dresden Dolls, honestly — they're intriguing, that's for sure, but the baroque Euro-cabaret thing's not really something I tend to listen to for fun, y'know? San Antonio's Girl In A Coma, on the other hand, are a raw, head-bobbing pile of indie-punk goodness; and don't be fooled by the name, because they don't sound much like Morrissey to me, anyway. Damn good shit.
Runners-Up:
Motion City Soundtrack/Say Anything/Saves The Day @ Warehouse Live
One Mic Houston, featuring Fat Tony, Thurogood Wordsmith, Propain, HasHbrown, John Dew, & DJ Acebooncoon @ Groundhall (formerly known as The Engine Room)
Art Crawl, featuring Keith Reynolds, Poopy Lungstuffing, Pat C. Kline, Art Institute, & Lava Doll @ Super Happy Fun Land
Metal Summit 2, featuring War Master & Blaspherian @ Sound Exchange (8PM; free!)
D.R.U.M./Potbelly/Kozzmik Steel @ The Continental Club
duneTX @ King Biscuit Patio Cafe (1606 White Oak)
Blaggards @ Olde City Pub
Hype!, featuring Kids At The Bar, GRRRL Parts, DJ Hyro, Best Legs, Mr. Castillo, & Mr. Mudd Butt @ The Mink