Saving KTRU: The Dirty Laundry Comes Out; The Fight Goes to the FCC (+ UH Tomorrow!)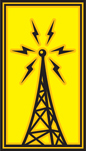 I know it's been a little while since I posted anything about the possible sale of student-run, student-founded Rice University radio station KTRU to the University of Houston. And yeah, I'll admit it — after UH actually signed on the line that's dotted, it got a heck of a lot harder to keep fighting, keep writing about it. Try as I might, the news seriously took the wind out of my sails. I mean, that was part of the strategy all along (although I'll get to that in more detail below): it's a lot harder to get motivated to fight a done deal.
Then I got some unexpected news that brought the ire right back up there. I'd known in my gut that the whole thing smelled shady — now, thanks to the doggedly determined folks at the Texas Watchdog, the documents prove that gut feeling correct. The Watchdog folks filed a Freedom of Information Act (FOIA) request to get all the emails, faxes, and other communications between the University of Houston, and what they found — while not revealing anything strictly illegal, paints a picture of staffers at both universities colluding to hide the whole thing from the students and alumni at their respective school.
I've read some of the emails, and it's appalling. After months of both university administrations assuring concerned staff, alums, students, and community members that either they had to keep the negotiations secret (the Rice story) or they didn't know why the other side wanted to keep the negotiations secret (the UH story), it's clear that both sides knew full well that what they were doing was going to piss off a lot of people.
They just didn't give a shit, so long as Rice got what it wanted (money), and UH got what it wanted (another radio station). And I suspect that as more documents come out, the worse it'll look for the universities — Burn Down Blog and the Houston Press are covering it, of course, over here, here, and here, and now even the Huffington Post has picked up the story, which is kind of mind-blowing to me, at least.
Beyond all that, in spite of what the seller and buyer of KTRU would have you think, it's not a done deal. The whole shebang, seeing as it has to do with radio broadcast frequencies, still needs to get approved by the Federal Communications Commission. And what that means is that no, this isn't over yet.
The window's closing, however, so the station needs all the help it can get, ASAP. FCC comments have to be in by December 2nd at the absolute latest, I understand; the Save KTRU crew are working hard to fight this thing, as always, and they've got a post up called "Saving KTRU in Four Easy Steps". I can summarize pretty quickly, though:
Write to the FCC
Sign Save KTRU's letter of protest to the FCC
Write or call your Congressperson
Tell everyone you know
Now I know, I know — heading upstairs can be a seriously uphill battle. But there are signs that some of the folks either on the FCC board or previously on the FCC board are backing KTRU; the ever-observant Burn Down Blog noticed that Rachelle Chong has been tweeting in support, and realized that Ms. Chong is herself a previous FCC Commissioner…
A little closer to home, there's another thing you can do. If you happen to be in the H-town area, get on over to the University of Houston-Downtown campus for this:
BOARD OF REGENTS MEETING
November 17, 2010, 1:30 p.m. – 4:00 p.m.
University of Houston-Downtown
Special Events Center
Academic Building, 3rd Floor
One Main Street, Houston, TX 77002
If the Special Events Center is packed full with people wearing "Save KTRU" t-shirts or the like, that'll look pretty scary to the UH/Rice folks who want us all to shrug and go home. Get on out, people.