The Rundown (3/31-4/5): Roky Moon + Wild Moccasins + The Manichean + Red Sparowes + Hearts of Animals + More

I'll be offline somewhat for the next few days, so I figured I'd better do a full-ish rundown of all the week's shows for you folks who'll be around. Feels a little weird, actually; I've been doing the day-by-day for so long I can't remember the last time I did a real-live Rundown. Here goes:
Wed., March 31:
Roky Moon & Bolt/The Gold Sounds/Brandon West & The Black Hats @ Walter's (free!)
Late-late-late, I know, but fuck it — it's Walter's, for crying out loud. I honestly can't remember the last time I saw a show there that started before 10PM. And hey, if you're still waffling as to what to do tonight, well, this is your show, believe you me. Roky Moon & Bolt do the coolest glam-y rock you're likely to see anytime soon, channeling Meat Loaf and Marc Bolan in equal measure, and then there's openers The Gold Sounds, whose CD release at Walter's (which I still need to write up, dammit) was pretty damn awesome — when they finally launched into "She Got Me Singin So Low," towards the end of their set, it nearly brought the roof down.
Thurs., April 1:
The Wild Moccasins (tour kickoff!)/Something Fierce/Ghormeh Sabzi @ Walter's
Yes, yes, yes. Very, very happy to see H-town indie-pop heroes The Wild Moccasins escape the city to spread their gospel elsewhere. And who better to send 'em off than ultimate pop-punkers Something Fierce? This is gonna be the highlight of tomorrow night, I swear.

Hockey/The Constellations/ The Postelles @ Warehouse Live
Shock Treatment, featuring Blackmarket Syndicate, The American Heist, & The Society of Bandits @ Rocbar
Steel Panther/Dev Electric @ House of Blues
Patrick Sims @ Warehouse Live (Green Room)
Spazzathon/Thou Shalt Not Kill…Except/Yatagarasu/Poopy Lungstuffing/PSA/Flakey/Muzak John/Black Magic Marker @ Super Happy Fun Land

Fri., April 2:
The Manichean (EP release)/ Peekaboo Theory/Tax The Wolf/ B L A C K I E @ Mango's ($8)
Argh. I really, really wish I was gonna be around for this. Not only is B L A C K I E pretty much the most innovative, fuck-the-rules rappers in town and Peekaboo Theory is one of the coolest edgy alternarock bands around, but headliners The Manichean are ridiculously, insanely good at what they do. Which is a little hard to explain, honestly, but it's like a drama club bus colliding with a crazy-talented indie-rock orchestra, in the dark, and then getting drunk on absinthe to forget their troubles.
Black Joe Lewis & The Honeybears/Grandfather Child @ Walter's (9PM; $10)
And here's #2 of the shows on this night I wish I could be here for; not only has everything I've heard by Black Joe Lewis & The Honeybears been excellent, but Grandfather Child's wild, all-out, totally irony-free take on lap steel-wielding blues.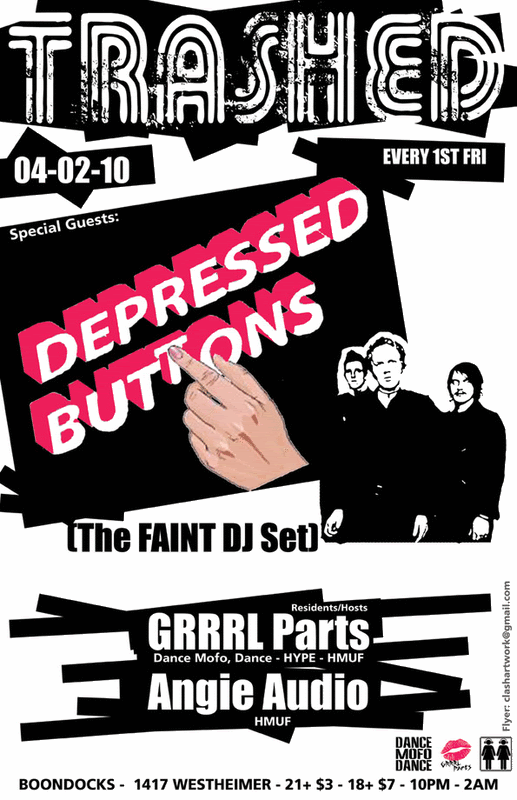 Snowplow/The 71′s/Lazlo/This Year's Tiger/David Lascoe @ Fitzgerald's
Edwin McCain/Jud Johnson Band @ House of Blues
Southern Culture on the Skids/Light Rock Express @ The Continental Club
PONG/One Man Machine & The Powers That Be!/Fiskadoro @ Super Happy Fun Land
Depressed Buttons (mem. of The Faint)/GRRRL Parts/Angie Audio @ Boondocks



Upon A Burning Body (CD release)/Waverly Hills/In Vain/Strictly Business/Take a Right on Tulsa @ The Junction (8302 N Eldridge Parkway)
Nick Gaitan/Andrew Karnavas @ Rudyard's
John Evans @ The Armadillo Palace

Sat., April 3:
Red Sparowes/ Doomriders/ My Education @ Rudyard's
Even in the rarefied field of atmo-metallers, Red Sparowes are pretty distinctive; they're the band I wished bands like Pelican were like, heavy and tight and soaring all at once. And then there's Austinites My Education, who are the orchestral brethren of fellow Austin-dwellers Explosions in the Sky.
Arabesque Fest, featuring Jabbour, Kristinia Koutsoudas, DJ Simiyu, Kareem, Dabka Troupe, & more @ Jones Plaza (downtown)
I'll be honest: I dunno any of the musicians playing, but I like this just the same. I'm fascinated by Arabic culture in general, including the food (when it's done right, b'stilla is really good) and besides, the whole thing's a fundraiser for the Houston Palestine Film Festival, which is always a neat cause.
Brujeria/Banda Bostik/Circle of Signs @ Amnesia Disco (5965 S. Gessner)
Yep, you read that right: the Brujeria, legendary Tijuana metalheads, are indeed playing at a disco over on Gessner. No lie. Not sure who's in the current lineup, though, given all the pseudonyms & whatnot, and I'm pretty sure Dino Cazares is back playing with Fear Factory these days, so y'know. Still, pretty badass.
Possessed by Paul James/Sad Gorilla/Ellis and Hart/Airon Paul Dugas/Cory Derden @ Mango's
Jon Dee Graham/John Egan @ Listening Room (NiaMoves; 9PM)
Houston Indie Book Festival, featuring Holy Wols & more @ Menil Park (1515 Sul Ross; 10AM-5PM)
Alicia Keys @ Toyota Center
Southern Culture on the Skids/Mike Stinson @ The Continental Club
Easter Orange Hunt, featuring Men of Houston Morris Dancers @ The Orange Show
Konk Pack @ labotanica (2316 Elgin; 8PM)
Beans Barton & The Bi-Peds @ Dan Electro's Guitar Bar
Chris Sacco (duneTX) @ The Big Top
The Failed Attempt @ The White Swan
13 Black Coffins/ESE/Oklahomos @ The Hot Dog Shop (6405 Brittmoore)
This Providence/The Audition/Anarbor/The Bigger Lights/Artist vs. Poet @ Wired Live (formerly The Meridian)
Dirty Honey, featuring Brett Koshkin & A Fist Full of Soul DJs @ Boondocks
Scott McCurry & The Mercenaries/Suburban Warfare/The Fox Derby @ House of Blues
Ferry Corsten/Tritonal/Jeff Shelton/Chris Costello/John Alan Clark/Tager & Funk/GRRRL Parts @ Stereo Live (6400 Richmond; formerly Bar Rio)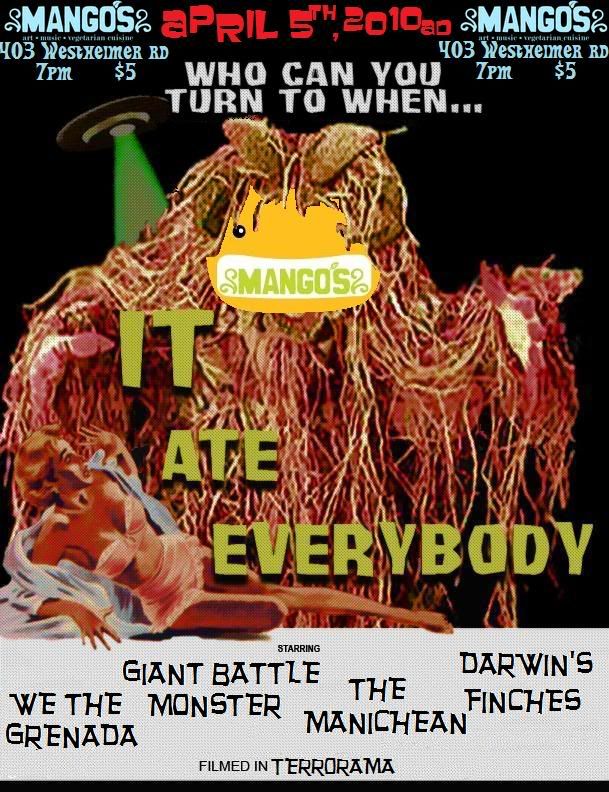 Mon., April 5:
Hearts of Animals/ Christopher Cascio @ Boondocks
It's been too damn long since a Hearts of Animals show, I swear. Glad to see Mlee is still around & playing; I've missed hearing her quirky, oddly cracked-sounding, half-drifting indie-pop, so I'm psyched it sounds like she's gearing up for more shows & whatnot. This time out, she's playing with Chris Cascio of the ArtStorm crew, who I've never heard, unfortunately…
We The Grenada/Giant Battle Monster/The Manichean/Darwin's Finches @ Mango's (7PM; $5)