CATEGORIES
OUR FRIENDS
ARCHIVES
RECENT COMMENTS
OUR PICS
Tonight: Bright Men + Killswitch Engage + Sherwood + Caddywhompus + More [2/25/2010 04:48:00 PM]:
Damn, it's looking like quite a Thursday night tonight... I've gotta keep this brief, but here's a quick-ish rundown of what you might go and see/hear, were you inclined to go out and see/hear things. (Hey, it could happen. I hear the Akron/Family show the other night was pretty packed.)
Kennedy Bakery/Bright Men of Learning/ Christian Staehely @ Rudyard's
First & foremost, friends of yore Bright Men of Learning are playing tonight, opening for somebody I've got no clue about named Kennedy Bakery up at Rudz. If you've never seen the band -- and, mea culpa, it's been too damn long since I got out to see them, myself -- trust me, they're really, really freaking good. Even though they'll probably tell you that they're not. Not entirely sure how they did it, but their long-running blend of rootsy, quasi-countrified rock (think Son Volt, Lucero, Tom Petty, or Ryan Adams) and laidback slacker indie-rock (think Spoon or a less-twitchy Sebadoh) seems to've foreshadowed a crapload of bands out there right now. Except that, well, BMOL do it a whole lot better.
Plus, the opening-openers, Christian Staehely and his band, sounds intriguing. Apparently the bassist is Mark Andes, who used to play with Spirit, Firefall, and -- holy fucking shit -- Bad Animals-era Heart. Okay, wow. And hey, I've heard good things about the music, too, although I, um, don't have it right in front of me...
Killswitch Engage/The Devil Wears Prada/Dark Tranquility @ Warehouse Live
Hoo-ah. What can I say? These days, Killswitch Engage tend to pretty much be the yardstick by which I judge all other metal. Heavy, raw, bitterly emo at points, and utterly impossible to resist howling along with on the drive home.
Givers/ Caddywhompus @ Mango's
Ah, Caddywhompus -- I love, love, love this band, and yet I feel like I've been giving 'em short shrift lately. Quirkily heavy, yet still melodic and interesting, indie-rock stuff from a supremely talented pair of guys (who also happen to've been half of The Riff Tiffs, should you remember that maybe-now-gone band). "Absinthesizer" still blows me away, I swear to God. Hopefully the duo'll be back around these parts a lot more in the coming months, once school's out and all...
Dreaming of June/The Lotus Effect/After Time Has Passed @ Rocbar
Liking this one, too; I don't know any of the three bands real well, but I like what I've been hearing of The Lotus Effect, in particular -- nicely-done, almost Sevendust-ish (but not quite as heavy) alternarock. And hey, Dre is good people, so that's a bonus.
Sherwood/Hot Chelle Rae/Black Gold/Reece @ House of Blues (Bronze Peacock Room)
Dunno most of these folks, but I do really like Sherwood -- reviewed A Different Light back in 2007 or so, and was happily surprised to find that I enjoyed the hell out of the sweet, shiny-bright pop songs buried beneath the requisite Jimmy Eat World guitars. Not entirely sure they still sound the same, but I'd be willing to bet they're close.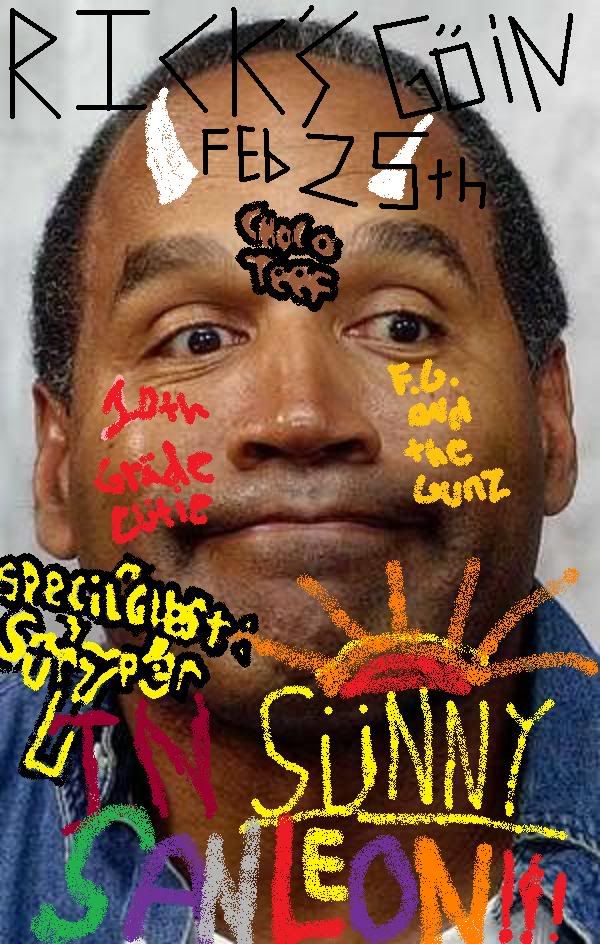 Stryper/10th Grade Cutie/Choco Teef/F.G. and the Gunz/Nashville Snake (mem. of Cop Warmth/10th Grade Cutie)/Saviour Group @ Driveway on 6th St. (San Leon)
Okay, so I really, really doubt the band posing as "Stryper" on this bill is actually the Stryper. (Not that it'd make me want to see the show more, but hey...) That said, the guise promises something weird and probably bizarrely entertaining, as that's pretty much the stock-in-trade of those 10th Grade Cutie kids.
Runners-Up:
Together We are Instruments @ The Husk (2808 Milam; 8PM)
Songwriters Night, featuring Lisa Morales, Patricia Vonne, & Dustin Welch @ McGonigel's Mucky Duck

Labels: Flyeration, H-Town News, Musical Crap, Public Service Announcements, Things To Do
gaijin || Link || E-mail || 0 comments
All contents © 2010 Space City Rock, unless otherwise credited (photos used on the site excepted).