CATEGORIES
OUR FRIENDS
ARCHIVES
RECENT COMMENTS
OUR PICS
Yr. Weekend, Pt. 1: listenlisten + Haiti Benefit #3 + Roky Moon + J.T. Kerschen's Imaginarium + More [1/22/2010 05:11:00 PM]:
Tons and tons of good stuff going on this weekend, so I'll start things off with the monumental pile for tonight, Friday, January 22nd... Hell, tonight's full of difficult, painful choices -- here're my recommendations, but as always, your mileage may vary:
listenlisten/Robert Ellis/Gin City @ Free Press Houston Warehouse (3412 Yupon; $5, 8:30PM)
Probably my favorite of the bunch tonight, although it's a close contest, honestly... I just can't help but love-love-love listenlisten, with their mournful, thoughtful, another-timey folk tent-revival vibe; every time I see 'em, I get chills, I swear to God. And no, that doesn't happen real often. Hymns From Rhodesia was honestly one of the best albums I lucked into getting this past year, and that includes a crapload of "big" releases from outside this city.
Then there's Robert Ellis, who in addition to playing in 2/3rds of the bands in the Montrose also does great things solo -- I desperately need to get a hold of last year's The Great Rearranger full-length sometime very, very soon. Opening are Austinites Gin City, who I heard for the first time today but whose name I like, for what that's worth. Some of their stuff's darn intriguing, like Billie Holiday backed by a minimalist dance-pop outfit or something; and hey, I can't help but like a band that does a reverent cover of "In the Aeroplane Over the Sea."
Haiti Relief Benefit, featuring The Factory Party, The Failed Attempt, Shark Attack, Versecity, DJ Sun, Kung Fu Pimp, Brad Slack, & Chris Costello @ Warehouse Live (6PM)
The third in a line of benefits for Haiti, which is most definitely a good cause in my book; this one's somewhat the dance/ska/reggae version, as far as I can tell, with cool folks like The Factory Party, DJ Sun, and Shark Attack on the bill. The proceeds go to the Red Cross, this time 'round. Get on out & help...
Chase Hamblin/The Nightmare River Band/Maryanna Sokol @ Mango's ($7)
Yeah, I already talked this one up a bit, I know, but trust me, it'll be good. Chase Hamblin does some good shit, and I like what I've heard so far of Maryanna Sokol, who does somewhat of a Regina Spektor-ish singer/songwriter pop thing.
Roky Moon & Bolt/Springfield Riots/Passengers/Big Black Spiders @ Walter's
Switchup time for this show -- one of the American Sharks guys reportedly had to leave town tonight, so they can't play, but Sharks frontman Mike is bringing his ever-ready Roky Moon & Bolt gang out to play, instead, running Bowie and T.Rex through some kind of "Punk Rawk" filter like they always do. Which is no bad thing, obviously -- add them to sweet, warm-sounding retro-popsters Springfield Riots, who ride the line between vintage '60s pop and, say, "Wish You Were Here"-era Floyd, and Passengers, who kinda take the psych-rock thing out to the garage and beat it with baseball bats for a while. (In a good way, of course).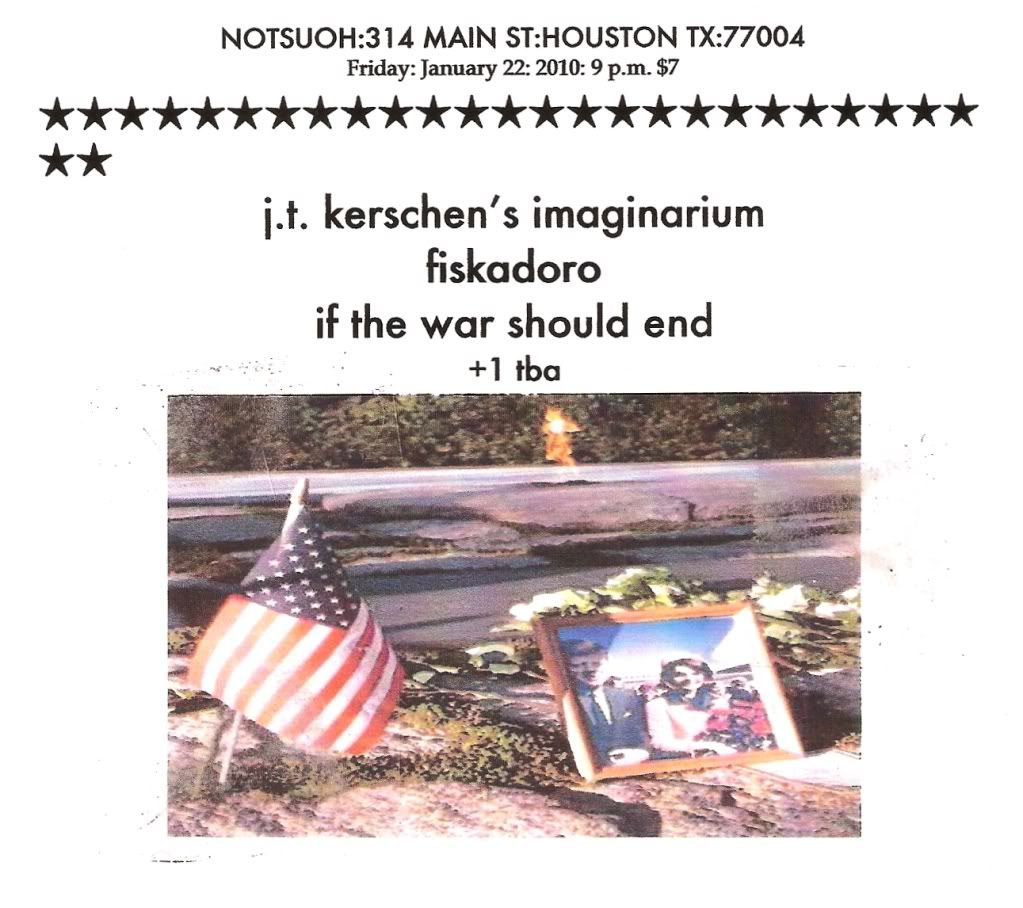 J.T. Kerschen's Imaginarium/ Fiskadoro/If the War Should End @ Notsuoh
Can't find a Website for 'em, but J.T. Kerschen's Imaginarium is the latest project by A Thousand Cranes guy Travis Kerschen, so it promises to be interesting at the very least and quite possibly very cool. Plus, there's Fiskadoro, who're nicely murky and hypnotic; should be good.
29-95.com Presents, featuring The Live Lights, Tax The Wolf, & The Dardans @ The Continental Club
Think I've said this about these guys before, but I really need to pay more attention to The Live Lights -- they do some really cool, attitude-heavy, BRMC-sounding stuff. Ditto with Tax The Wolf, who reportedly have some really good new stuff on the way. And hey -- free. Probably should've mentioned that first...
Runners-Up:
Deep Ella/Language Room/Courier/Mahoney @ Fitzgerald's
Four Year Strong/The Bled/This Time Next Year/Fingers Crossed/Title Fight @ The Meridian
Malcolm Rollick @ Sedition Books
Million Stars Missing/The X-Pats/Night Flight/A Silent Canvas/Winter Road/Oscuridad Social/Oncoming Traffic/This Name's Temporary @ The Mink (7PM)
Mark Growden @ Avant Garden

Labels: Charitable Things, Flyeration, H-Town News, Musical Crap, Public Service Announcements, Things To Do
gaijin || Link || E-mail || 0 comments
All contents © 2010 Space City Rock, unless otherwise credited (photos used on the site excepted).