CATEGORIES
OUR FRIENDS
ARCHIVES
RECENT COMMENTS
OUR PICS
Yr Weekend: Swell Season + While You Were Gone + Literary Greats + Dengue Fever + Blues For Food + More [11/13/2009 05:15:00 PM]:
Yeah, yeah -- believe me, I know the Westheimer Block Party somewhat gets (and deserves, I should add) top billing for this weekend, but it's far from all that's on. Check out the WBP, definitely, but then head further afield...
Fri., November 13:
The Swell Season/Rachael Yamagata @ Warehouse Live
Ah, this one breaks my heart...sigh. I was psyched as hell when I first saw that The Swell Season -- aka "the two main characters/actors in Once" -- were coming to town, but with family-type stuff needing to be done and a wee one to feed, change, & keep an eye on, it appears I'm going to have to miss the show. Argh. Instead, I'll have to keep playing the four most killer songs off the Once soundtrack over and over again, eh? "Say It To Me Now" still makes me want to stand on a streetcorner and pump my fist in the air.
Oh, and I'm also bummed because I really like the one song of Rachael Yamagata's that I've heard, "Worn Me Down" -- she's got a nicely roughened voice, and the song sounds, at least to me, totally out of its time. In a good way, mind you.
Marcy Playground/Margot/While You Were Gone/The Ride Home @ The Meridian (Red Room)
Okay, first things first: I really am not a fan of Marcy Playground. Really and truly. I thought "Sex and Candy" was a dull, lifeless, wannabe-edgy song when it first came out, and the years haven't really dulled my distaste much. That said, this is a badass show because of the local-type folks. Spacerockers Margot are mindblowing (so glad they're back together & doing shows), The Ride Home have some intriguing kinda post-emo songs, and best of all, While You Were Gone just released a stellar EP of heartbreakingly sweet, roaring-guitars love songs that I'd urge anybody & everybody who's into, say, 1997, Eisley, or Veruca Salt to grab hold of.
Little Teeth/sIngs/Ghost Mountain/Karuna Spoon/Harvard The Band @ Super Happy Fun Land
I'm afraid I didn't do my homework like I should've on this one, so I have no idea what anybody here sounds like, really, beyond Ghost Mountain -- what can I say? Headphones time is hard to come by, these days... The show'll be worth it, though, even if you go in blind, because GM are so over-the-top hypnotic and brilliant that they're worth the measly handful of $$$ right there. Plus, I keep hearing good stuff about sIngs, too.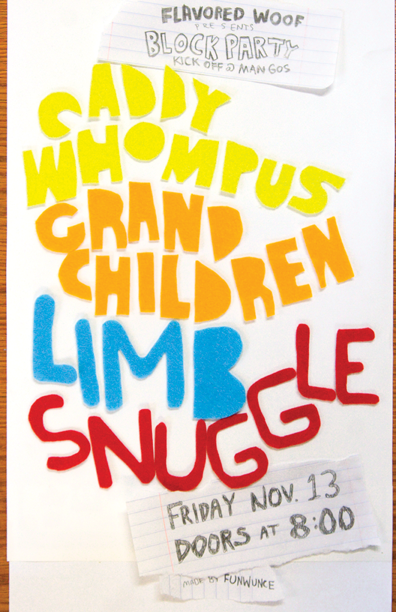 Caddywhompus/ Grandchildren/ Limb/Snuggle @ Mango's
Does this and the rest of the weekend mean the boys of Caddywhompus are back in town for a while? Damn, I sure hope so -- I still need to check out the second of the band's two EPs, but the first one practically melted my ears off with its psych-heavy crunch. I cannot say enough good things about "Absinthesizer," in particular; the guitar sound alone makes me instantaneously regress to being a 16-year-old again.
Alkari/DuneTX/Antonio Huerta @ Rudyard's
Love those Alkari guys, so I was damned happy to see 'em pop up on this bill for tonight at Rudz. I haven't seen 'em in a while, unfortunately, but they won me over via the one live performance I've caught so far & their latest(?) EP, both of which were excellent, straight-up rock shows that never really seem to need a pre-genre tag affixed to 'em. "The Code" and "If I Could" both make me grin whenever they come up on the iPod.
Houston Lebowski Bash, featuring Picture Book @ Discovery Green (7:30PM)
Yep, I blathered some about this earlier, but I figured I'd better put it on this list, too, for those who only skim the posts...
Blaggards @ R&R Sports Bar & Grill (Friendswood)
Corners @ Walter's
Ray Wylie Hubbard @ McGonigel's Mucky Duck
Don't Fight It, featuring DJ Good Grief & Young $quaddy @ Boondocks
Chin Xaou Ti Won @ Avant Garden
Friday The 13th Slaughterfest, featuring Ensiferum, Hypocrisy, Lazarus AD, Blackguard, Waverly Hills, & Tyrant Virus @ The Meridian
Burn The Boats/Dickey Hands/Defending the Kingdom @ The Continental Club
Sat., November 14:
The Literary Greats (CD release)/Elkhart @ The Continental Club
Already hit this one quite a bit, so I won't rehash here except to say: seriously, you should go. You won't regret it.
The Koffin Kats/The Ghost Storys/The American Heist/13 Black Coffins @ Walter's
Raw, down-n-dirty, nitro-burning garage-punk. I think, anyway -- if I remember right, headliners Koffin Kats are one of those zombilly bands, which is fine if you're into that, but I'm far, far more keen on locals The Ghost Storys (who I need to hear more of), The American Heist (liking 'em so far), and 13 Black Coffins (who're pretty damn impressive). Get to this one early. (Okay, "early" for Walter's, which is probably like 10PM...)
The Lost World Film Screening, featuring Dengue Fever @ Warehouse Live
Nearly missed this one, really, buried somewhat in a listing for the 2009 Cinema Arts Festival (which I've already yammered about over here), and that's a shame, because it sounds like a very cool, very unique thing. The original version The Lost World (not the Jurassic Park sequel, thankfully) will be playing up on the big screen, while Cambodian/American pop-fusion band Dengue Fever provide the live soundtrack. I've heard some of the band's original music, and it's pretty cool, even if you (like me) speak absolutely zero Cambodian. (Is "Cambodian" even a language? Hell, I have no idea.)
Benefit for Glenda Pogue, featuring several bands @ The Meridian
Black Queen Speaks/Low Man's Joe/The Fox Derby/Suburban Warfare @ Fitzgerald's
Xapaharon/Owl Witch/Fields of Stone/Infernal Butchery/Flesh Eater @ The White Swan
Yoko Mono/Ellypseas/Bomba Chica @ Bohemeo's
Rhett Butler/Will Taylor & Strings Attached (Police/Sting tribute) @ Dosey Doe Coffee Company (The Woodlands)

Sun., November 15:

Blues For Food 2009, featuring Sparetime Murray & The Honeymakers, Snit's Dog & Pony Show, The Texas Destroyers with Doug Black, Sonny Boy Terry, Texas Johnny Brown & The Quality Blues Band, John McVey & The Stumble, Dave Nevling & The Blues Kats, Mojofromopolis, The James Reese Band, The Erin James Band, Don Kesee & The Blues Masters, The Brad Absher Band, Steve The Chief, Jimmy "Louisiana" Dotson, Rich DelGrosso, & more @ Shakespeare Pub (nonperishable food items for cover; 12PM-11PM)
Honestly, I'm surprised I haven't seen more about this one; it's an annual benefit for the Houston Food Bank, and it features an impressive roster of blues (and blues-based) musicians & bands, all donating their time to help see that folks don't go hungry this Thanksgiving. Bring nonperishable food items over to the Shakespeare Pub to get in & catch the music.
Three Bad Jacks/Miss Leslie & Her Juke-Jointers @ The Continental Club
I dunno how many times I can say this, really, but damn, I can't help myself: Miss Leslie is amazing. And awesome. She's like the smart, sassy, modern-woman reincarnation of Patsy Cline, and that's something I think the country music world really needs these days.
Antidote Coffee 2nd Anniversary, featuring Young Mammals @ Antidote Coffee (5PM; free!)
The Texas Buzz, featuring Versecity, Legacy Fails, & Weirdo @ The Scout Bar (Clear Lake)

Labels: Flyeration, H-Town News, Musical Crap, Public Service Announcements, Things To Do
gaijin || Link || E-mail || 0 comments
All contents © 2010 Space City Rock, unless otherwise credited (photos used on the site excepted).