New York Night Train, Tonight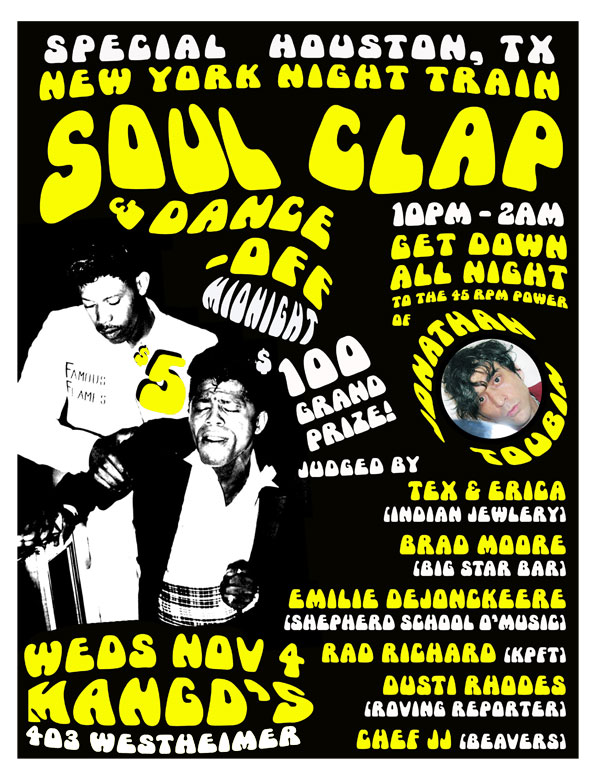 Got email about an interesting thing going on this evening up at Mango's — it's a dance contest, of all things, with the unwieldy-yet-entertaining title "New York Night Train Soul Clap and Dance-Off," and it sounds pretty entertaining. The organizer (and DJ for the event) is a hometown boy, Jonathan Toubin, and he's really hoping to get lots of folks out to strut their stuff for his roving soul par-tay, which he's bringing back home from NYC for one special night.
The competition itself takes place at midnight, and it's being judged by an all-star panel that includes Big Star Bar's Brad Moore, Chef JJ of Beavers, freelance music/art/whatever journo Dusti Rhodes, Rice Univ. French (wha?) professor Emilie Dejonckeere, the ever-awesome Rad Rich, and Tex and Erika of H-town/L.A. noise-rockers Indian Jewelry. And yes, the records Jonathan'll be spinning will be some awesomely obscure old-school soul 45s, which makes this thing worth checking out right there. Check out this interview from Brooklyn Based for more about Toubin & his dance machine.
Naturally, most folks need a little, um, incentive to get out there & shake their ass in front of a panel of critical, Cowell-esque judges, but you're in luck here — the grand prize is $100. I'll leave aside any depressing parallels between this and those creepy dance-'til-you-drop things people did for cash during The Great Depression, though, and say that I'm thinking the primary goal of this is to have a good time.
Things kick off at 10PM tonight, and the cover's either $5 or $7, depending on where you're getting your info from. Get on out and get down…