CATEGORIES
OUR FRIENDS
ARCHIVES
RECENT COMMENTS
OUR PICS
Yr Weekend, Pt. 1: Spain Colored Orange + Melvins + Giant Princess + WYWG + More [8/28/2009 05:04:00 PM]: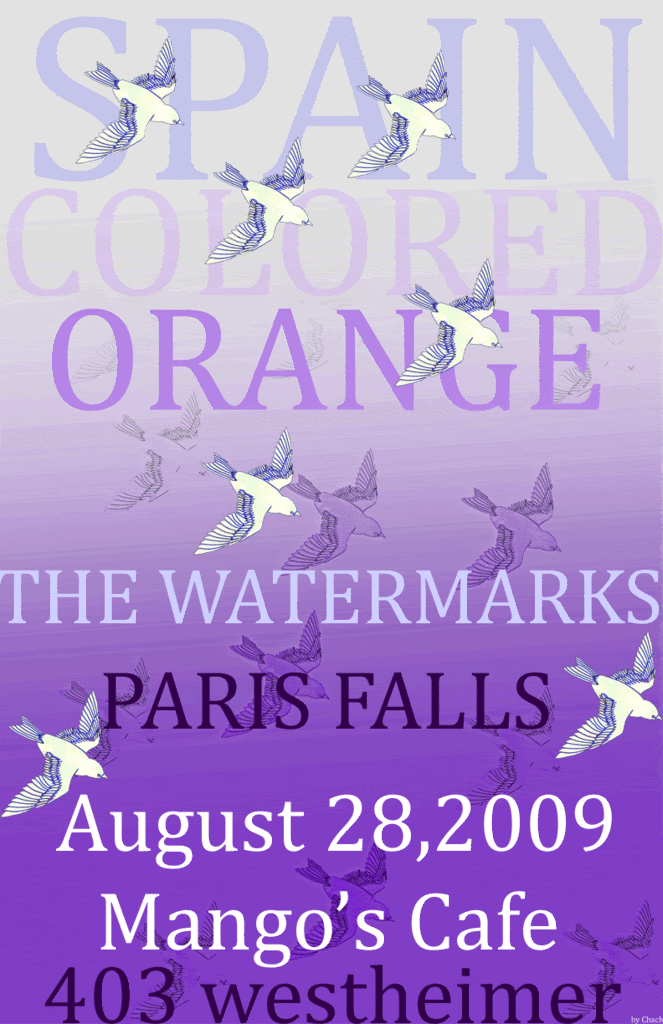 Yep, it's the weekend again, thankfully, and although this weekend's not quite as insanely busy as some have been lately, well, I'm looking at it as a quality-vs-quantity type thing, y'know? Here's what I'm liking tonight, Friday, August 28th; more on the rest of the weekend later on...
Spain Colored Orange/The Watermarks/ Paris Falls @ Mango's
Wow. In terms of local-boy starpower, y'know, this is pretty much it right here. Spain Colored Orange have been around seemingly for eons now (and releasing albums about as fast as the tectonic plates shift, appropriately), and I'm still a bit bemused about them, but they always surprise me & throw me off-kilter -- I still have yet to get a hold of a copy of their latest, Sneaky Like A Villain, sadly, but I'm apparently the last in town to do so, because I've heard rave reviews from everywhere.
As far as The Watermarks go, I've been on the fence a long time, thinking "good, but...," but their latest EP, Thoughts Like Bombs, is ridiculously catchy and sleek like a freaking metal-plated seal. And yeah, I really, really need to get off my ass & review the damn thing. sigh. Paris Falls, though, I've been all over from the word "Go" -- they really, truly blow me away with every damn release. In a perfect, well-ordered universe, they'd put out albums on Kill Rock Stars or something and be adored as retro-psych geniuses. Go see them before that happens & you can't get in the door.
Melvins (2 sets!) @ The Meridian
The Melvins were supposed to be touring with Big Business, I thought, but apparently they've dropped off the tour for the Houston stop, at least. Which ain't no bad thing, since it means Buzz & co. will be delivering a full-on double-shot of sludge-rawk straight into H-town's collective face. (And yeah, that metaphor suddenly makes me feel icky, too.)
Splinter Cake/Giant Princess/Limb/ sIngs/ B L A C K I E @ 1816 Calumet (house show!; $3, 7PM)
Y'know, I never really know whether I should list these house show deals or not; I definitely wouldn't claim to be any kind of scene arbiter, but I've had a finger or two pointed my way in the past for publicizing a show that, well, was meant pretty much for friends and that's it. People get stupid, drunk, and rowdy at shows in general, and yeah, when you throw a party that you want to be just you & your crew and some wasted asshole throws a chair through a plate-glass window or something, that kind of sucks. (A hint, btw, for people who want to host those kinds of exclusive shows: go the Something Fierce route and put "email for directions" or something on your flyer, not the damn address. Your friends all know your email addy, right?) So I feel like I should put a caveat on here: if you go to this show, don't be a dick. Respect other people's property, because if you don't, the odds of a subsequent show ever happening are pretty slim.
All that said, this promises to be a good one. I feel like I've hit a little bit of B L A C K I E overkill, personally (not listening to him, mind you, but talking about him), but fuck it, he rules, and I shudder to think what the neighbors of these folks must think (assuming, of course, that they have neighbors) of that punishing, mind-numbing bass crunch and those dark, angry rhymes. And hey, Giant Princess are playing, too, and they happen to be a band that literally left my jaw opened a year or two back at a show at Numbers. They're like The White Stripes if Jack White still had a soul. sIngs I've heard good things about, too, and Limb's laptop-mashing at the last Block Party was damned intriguing.
While You Were Gone (CD release)/Hollywood Black/Anthem/The Ride Home/Why He Hates Rebecca @ Fuel Cyber Cafe (Humble)
Yep, already blathered at length about this one, but hell, read what I said before, then go, go, go see this show.
Texas Children's Hospital Benefit, featuring Darwins God @ Hard Rock Cafe
No, I'm not real familiar with Darwins God, but any benefit for Texas Children's is very cool by me. Support, y'all.
Runners-Up:
Car Stereo Wars/The Mouth @ Boondocks
Sister 7/Skyblue72/The Handshake @ Warehouse Live
Labretta Suede and the Motel 6/Cop Warmth/xBattle Riflex/The Delta Block/Somosuno/Rapeworm @ Super Happy Fun Land (8PM; $7)
Steel Lounge Underground, featuring DJ Drew, Tax the Wolf, & Eddie Spettro @ Contemporary Arts Museum Houston (5216 Montrose; 8-11PM, free!)
More to come, I swear...

Labels: Flyeration, Musical Crap, Public Service Announcements, Things To Do
gaijin || Link || E-mail || 0 comments
All contents © 2010 Space City Rock, unless otherwise credited (photos used on the site excepted).