CATEGORIES
OUR FRIENDS
ARCHIVES
RECENT COMMENTS
OUR PICS
Yr Weekend & Beyond: Paris Falls + Matt Mayo + Papermoons + Dead Audio Fest + HPMAs + More [7/24/2009 05:27:00 PM]: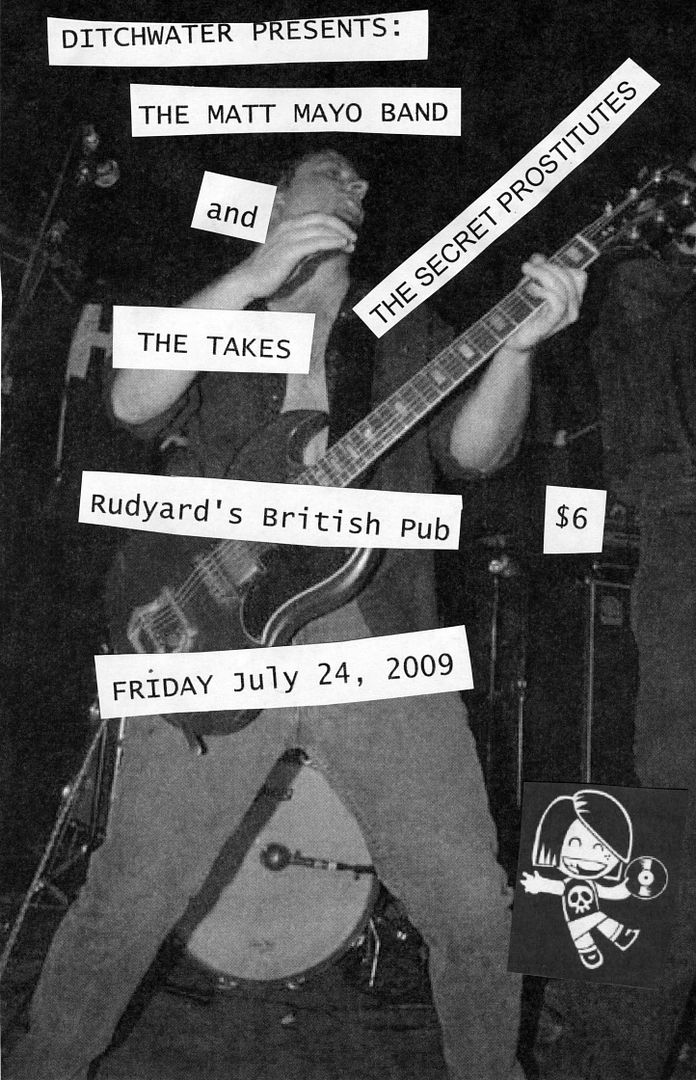 Good weekend coming, definitely, and since yours truly will sadly be out of town, I wanted to hit the stuff going on early next week, too. Here goes:
Fri., July 24:
Paris Falls @ Cactus Music (5:30PM)
The earliest of all of 'em is happening in just a little while, actually -- sorry for the short notice! -- with fuzzy-edged retro-popsters Paris Falls blazing through Cactus Music this evening (as in, "in just a few minutes"...argh...). If you haven't yet heard Vol. III, trust me, it's good; I've had "Goodmorning" stuck in my head for weeks.
Ditchwater Records Showcase, featuring The Matt Mayo Band, The Takes, & Secret Prostitutes @ Rudyard's ($6)
Glad to see Rosa of Ditchwater Recs/Zine is doing another of her "Ditchwater nights" w/some good local folks. I've heard incredible stuff about Clear Lake-dwelling Matt Mayo, The Takes are a band I really need to see/hear more of, and Secret Prostitutes are, well, pretty unique, to say they least.
Judas Priest/Whitesnake @ Verizon Wireless Theater
Said tons about this already, so I'll keep it brief: Judas freaking Priest. "Breakin' the Law." "Turbo Lover." That's enough for me right there...
Dickey Hands/ Outspoken Bean/The American Heist/Skeleton Dick/Sitch @ Warehouse Live (Studio)
Dunno most of these folks, but I wanted to mention this one because The American Heist, formerly Born Anchor, is playing, and I really dig what I've heard of their raw, blues-folky rock songs. It's fronted by one of the Johnny Switchblade & the Blackouts guys, I believe.
Future Blondes/ //TENSE// /A Thousand Cranes/DJ Ceeplus @ Mango's
If you're looking to get your mind opened this evening, well, here you go. Still haven't heard //TENSE//, but Future Blondes are intriguing (thought they weren't playing anymore?), and A Thousand Cranes is nicely trippy.
Pound For Pound/The Hates/13 Black Coffins/ Frankenpuke/Oscuridad Social @ The White Swan
Clandestine @ McGonigel's Mucky Duck
Sunset Soundtrack/Devil Killing Moth @ Notsuoh
Sat., July 25:
Papermoons (tour kickoff)/Elaine Greer/Bison/Springfield Riots @ The Mink (9PM)
Wow. My top choice Saturday's a tough one -- I still have yet to see Papermoons, although the recorded versions of their gentle, pastoral indie-folk have blown me away for years, Elaine Greer writes songs that could melt stone, and Springfield Riots recently-released EP is currently melting my brain (review to come, I swear). So there's this, or...
The Tontons (CD release!)/Little Joe Washington/Fat Tony/Giant Princess @ Caroline Collective
...this, for two. Been waiting for this one for quite a while now, ever since The Tontons first promised their full-length album (the followup to their excellent EP) was on its way back in the early spring. They've had some fairly major hiccups along the way, like some asshole stealing some of their gear right out of one of their guitarist's car, but they managed to pull things together, even still. This is gonna be a good one, both for them and for their openers, all of whom rule. I need to get a review of Fat Tony's new album up soon, actually. Plus, there's also...
Katie Stuckey and the Swagger/The Small Sounds @ Firehouse Saloon
...this one, which features my Absolute Favorite Country-Rock Band In The Universe (Right Now), The Small Sounds. Never actually been to the Firehouse Saloon, but I'm seriously considering it.
The Beauvilles/Flowers to Hide/The Live Lights/The Handshake @ The Meridian
This show's not in my Top 3, but it's close, because I dearly need to (finally) check out Flowers to Hide and The Live Lights, both.
Dead Audio Fest, featuring Black Leather Jesus, XDUGEF, Aphonic Curtains, Lychgate, Rubbish, Blacktransmission, Ashes, IS, Skonhet, Climax Denial, Custodian, The Annoysters, The Homopolice, Awen, Concrete Violin, RU-486, The Vomit Arsonist, Churner, Steel Hook Prostheses, Infirmary, Ze'ro-Sum, Jason Crumer, Relay for Death, Rosemary Malign, Goat, Kai/ros, Tissa Mawartyassari, Serum Fantis, Sigulda, Peiste, TwoDeadSluts OneGoodFuck, Spider Labyrinth, Astrogenic Hallucinauting, Endless Blinding Sunshine, Human Cobras, The They, Static Storm System vs. [M30W], In the Land of Archers, Crawling Iris, Bachir Gemayel, & Muzak John @ Super Happy Fun Land
I'll be honest: most of these bands are not my thing. Many of them, in fact, just give me a headache. But I'm okay with that, and I love the fact that such a straitlaced, business-happy town as ours can turn around and host something like Dead Audio Fest, which pulls in artists from all parts of the U.S., Mexico, & beyond. That's why I love this town: there're too many damn sides to even count.
Take On Our Enemies: Fire in the L.A. Chapter CoRE Benefit, featuring Morgue City & Ion @ The Meridian
Bit of a sad story on this one -- it seems the L.A. CoRE crew had a crippling fire at their HQ that wiped out all of their gear and (I think) even the head honcho's home. Which sucks, esp. since these folks mostly skate the edge of the financial knife as it is. So this is a benefit to help 'em get back on their feet, so they can keep doing all that weird hanging-from-hooks shit The Kids love. (And I like Morgue City, so that's a nice bonus.)
Dremnt The End/Meriwether/Project H/Eldridge/Leaf @ Fitzgerald's
The No Hate Fest, featuring 13 Black Coffins & more @ The Warehouse
The Secret Handshake/PlayRadioPlay!/Love You Long Time/Fight With Flash/Good Things Will Come @ Javajazz Coffee House
Amplified Heat @ Rudyard's
Shake Some Action Dance Party @ Mango's
Wynonna/Carolyn Wonderland @ Arena Theater

Sun., July 26:
Houston Press Music Awards Showcase '09, featuring Versecity, Spain Colored Orange, D.R.U.M., Blaggards, Moodafaruka, Sideshow Tramps, Los Skarnales, Metavenge, Plump, Buxton, The Mighty Orq, Caretta Bell, B L A C K I E, Mechanical Boy, Peekaboo Theory, The Umbrella Man, Sean Reefer & The Resin Valley Boys, The Tontons, Fat Tony, Katie Stuckey & The Swagger, The Small Sounds, Skeleton Dick, Kristine Mills, Mitch Jacobs Band, Indiginis, LL Cooper, thelastplaceyoulook, The McKenzies, Free Radicals, Chango Man, Ryan Scroggins & the Trenchtown Texans, Dixie Trahan, Ozeal & The Eulypians, Karina Nistal, Zydeco Dots, Runaway Sun, The Snake Charmers, Tha Fucking Transmissions, Beetle, Pasadena Napalm Division, Benjamin Wesley, duneTX, Melovine, Dominique, Heptic Skeptic, Glenna Bell, Elaine Greer, The Born Liars, DJ Brett Koshkin, Squincy Jones & Dayta, Gritsy, & Ceeplus Bad Knives @ various downtown Houston venues (Hard Rock Cafe, Rocbar, The Flying Saucer, Martell's, House of Blues, Dean's Credit Clothing, Red Cat Jazz Cafe, Isis Houston, & Mosaic; 5PM)
Do I need to say more about this? Really? Just look at the freaking lineup, man. sigh.
Pterodactyl/When Dinosaurs Ruled the Earth/Cop Warmth/Muhammid Ali/Motion Turns It On @ Mango's
Can't think of much to say about this one, either, except that Muhammid Ali rules, however the fuck they spell it. And Motion Turns It On and Cop Warmth are interesting, too.
Trout Fishing In America @ McGonigel's Mucky Duck
Hatred Surge/Mammoth Grinder/Mindless/Fight Pretty/The Burden @ Walter's on Washington
2009 Harmonica Rumble, featuring Jason Ricci & New Blood, Mojofromopolis, Steve Krase, & more @ Warehouse Live (afternoon show!)
Day After The Dead Audio Music Fest, featuring Självhat, Solange Tutunji, House with Laughing Windows, Ascites, Lotus Bazooka, Small Talk, Rusted Shut, How I Quit Crack, Thou Shalt Not Kill...Unless, & Muzak John @ Super Happy Fun Land
Jonathan Tyler and the Northern Lights @ Warehouse Live
CKY/Graveyard/ASG/Fall From Grace @ The Meridian
Stephen Jerzak/Breathe Electric/Romance On A Rocketship/Chase Coy/The Ride Home/Pacific Heir @ Javajazz Coffee House

Mon., July 27:
Reel Big Fish/The English Beat/The Supervillains @ Warehouse Live
Do I really need to say it again? Just in case: The English Beat. Fuck... I almost hate that I'm missing this more than I hate missing the HPMAs...
Tues., July 28:
Lisa's Sons/Fucking Thief @ Alvin Bowling Alley (Alvin)
Keep meaning to see Fucking Thief, which is sad, because I hear they're good, but I'm liking Lisa's Sons more & more & more. Took me a while to get past the "are they serious?" stage, but now I just don't care, so long as they keep cranking out those shiny-faced, keyboard-overloaded pop songs.
The Caution Children/Pianos Become The Teeth/Barkus, Sly, And The Golden Egg/Cassettes On Fire/Typefighter @ Super Happy Fun Land
Like what I've heard so far of the loud, raw Barkus, Sly, And The Golden Egg, they of the weirdly Jane Austen-esque yet cryptic name, and for some reason, the name Typefighter makes me giggle. I'm getting that put on a t-shirt to wear to the office, I swear.
The United States Army Field Band & Soldiers' Chorus @ Cynthia Woods Mitchell Pavilion
I can't really say why -- possibly it's my Army brat upbringing -- but this sounds kinda cool to me. Not that I'd be driving all the way out to The Woodlands for it if I were here, but still.

Wed., July 29:
Visioneers Screening, featuring Somosuno & Young Mammals @ Mango's (7PM; free!)
I was figuring to post a bigger thing about this separately, so keep an eye out for that, but hey: Young Mammals! It kills me that I still haven't found a copy of the band's latest release, but what I've heard from it has been phenomenal.
Piss Shit Fuck/Skurge/The Delta Block @ The Rat's Nest (last show!; 2305 Lyons, $4)
Tan Dollar/Wonder Wheel/Followed By Static/The Sils/The Wiggins @ Super Happy Fun Land

Labels: Flyeration, H-Town News, Musical Crap, Public Service Announcements, Things To Do
gaijin || Link || E-mail || 0 comments
All contents © 2010 Space City Rock, unless otherwise credited (photos used on the site excepted).