CATEGORIES
OUR FRIENDS
ARCHIVES
RECENT COMMENTS
OUR PICS
Tonight: The Paper Chase (MP3s!)/Muhammid Ali/sIngs + Steve Earle in Conroe [6/18/2009 04:41:00 PM]: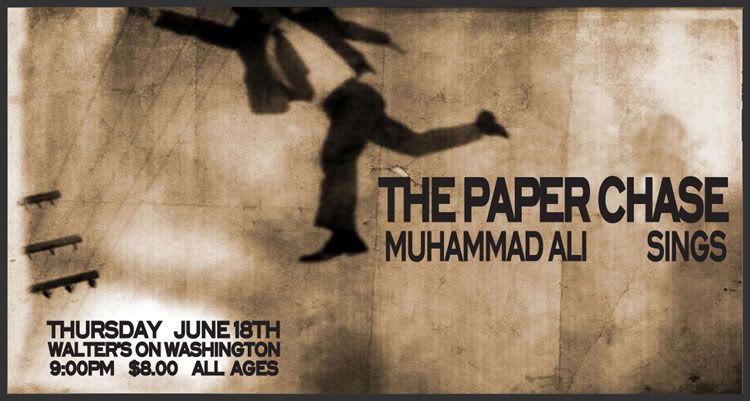 Another one (er, two) I can't believe I let sneak up on me; I still have yet to see The Paper Chase live, although I've been a fan of John Congleton and his dark, creepy-ass indie-noise-rock for a few years now. They're playing tonight, thankfully, up at Walter's on Washington, along with cool (although more "drunk" than "dark," at least in the first case) local boys Muhammid Ali & sIngs (a band that now includes the awesome Pam Cantu, of Piano Vines fame, which is excellent).
I haven't heard all of the band's latest, Someday This Could All Be Yours (released just last month on Kill Rock Stars), but I've caught tracks here & there that make me think things haven't veered all that far from the disturbing, crashing stomp of crazy-man pianos, vocals that skip from frantic shriek to sugary-sweet melody in a heartbeat, and scraping, Jesus Lizard-y guitars. You can check out the "single" (um, should that word ever apply to a band as out-and-out scary as this) below, "What Should We Do With Your Body (The Lightning)", as well as "We Know Where You Sleep" (off 2006's Now You Are One of Us) and my all-time favorite TPC song ever, "Said the Spider to the Fly" (from 2004's God Bless Your Black Heart). Enjoy:
The Paper Chase - "What Should We Do With Your Body (The Lightning)"
The Paper Chase - "We Know Where You Sleep"
The Paper Chase - "Said the Spider to the Fly"
And hey, just for fun, here's the video for "Said the Spider to the Fly", which I should note in no way matches what I'd always envisioned Congleton as looking like, but which is all the freakier for it...
While I'm at it, I should mention that Steve Earle is playing the Crighton Theatre tonight up in Conroe, for all you north-of-Houston-ians, and per the Houston Press, there are (or were, as of Monday) still tickets available. I caught Earle a few years back at the Houston International Festival, playing songs that were fairly critical of rah-rah über-Americanism and war in general at a time when making statements like that -- particularly in an oil-fueled metropolis like ours, and in front of a crowd primarily composed of boozed-up thirty-/forty-somethings and their spouses -- was a pretty damn brave thing to do, and he was (if you couldn't guess) pretty incredible.
I can't make it out to Conroe this evening, unfortunately, but heck, maybe you can. Here's a teaser, also courtesy of the HP via writer/videographer Craig Hlavaty, from Earle's recent daytime appearance at Cactus; doing "Taneytown", he's looking a bit older and more like my crazy Uncle Bill than he did the last time I saw him, but he still performs like it was the only thing he was ever meant to do. Here goes...
Labels: Flyeration, H-Town News, Musical Crap, Public Service Announcements, Things To Do, Things To Download, Things To Hear, Things To See
gaijin || Link || E-mail || 0 comments
All contents © 2010 Space City Rock, unless otherwise credited (photos used on the site excepted).