CATEGORIES
OUR FRIENDS
ARCHIVES
RECENT COMMENTS
OUR PICS
The Rest of Yr Weekend: Indian Jewelry + Ragged Hearts + The Ginslingers + Grizzly + More [6/27/2009 03:53:00 PM]:
What, you thought that was it for the weekend? Nah, not quite. Here's some more of what sounds good to me for the next two days/nights:
Sat., June 27:
Indian Jewelry/How I Quit Crack/Wicked Poseur/Flowers to Hide @ The Mink (9PM)
Glad to see Indian Jewelry out & about again. It may be my imagination, but it seems like they fell back off the radar a bit after releasing Free Gold. Cool that that's not the case -- I've got some serious catching-up to do. Unfortunately, it looks like this may be the last chance to catch up for a while now; the band's headed westward next week, charging through Austin, Marfa, & Tucson on the way over to sunny California & then heading up the coast on tour with Psychic Ills. See 'em now, while you can, eh?
For the rest, I dunno late, non-flyered additions How I Quit Crack, I've never yet witnessed Wicked Poseur, although I've heard they (he?) are something else, and Flowers to Hide are pretty dang good, from what I've heard of 'em -- I'm seriously liking "503," in particular. And boy, does the inclusion of that last one feel like one of those "one of these things is not like the others..." deals.
Dash Rip Rock/Ragged Hearts @ The Continental Club
I wouldn't call myself a Dash Rip Rock fan, honestly, although I do remember fondly back in the '90s when they did a cover of Guns N' Roses' "Paradise City" entitled "Trailer Part City" (I think that was it, anyway). Ragged Hearts, though, are pretty great -- I love their glam-/punk-tinged take on old-fashioned, bluesy, bottle-drinkin' country, which ends up sounding like a cross between Cinderella's Long Cold Winter and Social Distortion's rootsier moments. I'd hit this show just to see them, honestly -- they don't play real often these days, so it's worth a drive to Midtown.
The Phlegmatics @ Frenetic Theater (5102 Navigation; 8PM)
You've heard about this from me twice now already, so I'm not going to torment you any further. Go here and here, instead.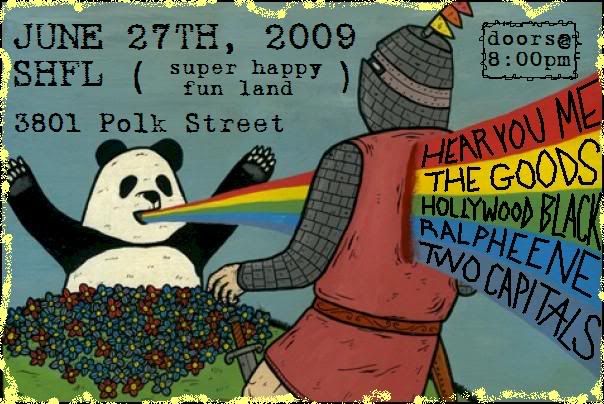 Ralpheene/The Goods/Lithium Waltz/Hollywood Black/Two Capitals/Hear You Me @ Super Happy Fun Land
Dunno about half these folks, I'm afraid, but I do know The Goods and Hollywood Black, and they're both well worth checking out. The former make some sweet, mid-tempo rock that's hard to categorize but is raw and noisy and melodic all the same (and they've got a new EP coming out soon on Mia Kat Empire, which is freaking great news, while the latter grab hold of some nicely righteous indignation and use it to set their guitars on fire (and then play them). Recommended.
The Ginslingers/ Chelsea Hotel/Left of the Dial @ Rudyard's
I've been enjoying both The Ginslingers and Chelsea Hotel quite a bit lately, I have to say -- they both do a street-level, old-school garage-rock thing, with some serious glam-rock elements in the first case & dirty-sounding rockabilly stuff in the second. Good either way, obviously (although I am a little bummed The Arcane Flowers're no longer playing; anybody know what happened?). And hey, Left Of The Dial is apparently a Replacements tribute band, and that's a tribute I can get behind...
Houston Pride Festival, featuring Kady Malloy, Low Man's Joe, Freak-in the Frame, James Reese Band, Indie Gruv, Soul Fixx, The Snake Charmers, Fluff the Kat, & more @ Commonwealth & Yoakum
Modern Convenience/The Caprolites/The Takes/Rapeworm @ Notsuoh
Carolyn Wonderland @ McGonigel's Mucky Duck
Summer Slaughter, featuring Last Rosary, Sever The Silence, Diminished, The Brilliance of Suffering, Critical Assembly, & Nailed Shut @ Walter's on Washington
Bastard Sons of Johnny Cash @ Armadillo Palace
Focus On Houston Festival, featuring Kevin Black, Ezra Charles & The Texas Blues Band, Marshall Black, & Coleton Black @ 1025 Judiway St. ($10/$25; 12PM)
Skylar Stonestreet @ Spring Tavern (Spring)


Sun., June 28:
Cryptacize/Wols/Ghormeh Sabzi @ Walter's on Washington (9PM; $8)
Yep, already blathered about this one, too -- go here.
Grizzly/The Wayward Sons @ The Hideaway (The Woodlands)
Hadn't seen much of these guys 'til recently, but I'm already pretty intrigued by Grizzly -- they bill themselves as being "Not your grandaddy's country," and that's fairly accurate -- what they are is a rough-edged, cigarette-scarred roots-rock band along the lines of Lucero & Jr. Juggernaut. Which is no bad company to be in, believe me. Folks up in the northern reaches of Greater Houston, take note.
Ingebrigt Haker Flaten @ Avant Garden
Sex Slaves/The Reely Rotnz/aFreudianSlip/Dead to the World @ Rocbar
Focus On Houston Festival, featuring Roger Creager & Texas Johnny Brown @ 1025 Judiway St. ($10/$25; 12PM)
Otenki/Amely/betterLUCK/Make Your Escape/From Guts To Glory @ Warehouse Live

Labels: Flyeration, H-Town News, Musical Crap, Public Service Announcements, Things To Do
gaijin || Link || E-mail || 1 comments
All contents © 2010 Space City Rock, unless otherwise credited (photos used on the site excepted).