CATEGORIES
OUR FRIENDS
ARCHIVES
RECENT COMMENTS
OUR PICS
Your Weekend, Pt. 1: Wild Moccasins + Favorites + Media Archaeology + Springfield Riots + More [4/17/2009 06:06:00 PM]:
Nature, why do you toy with me? Here I was (er, am), all set to try to decide what the hell to do with a free evening, and then the sky darkens like it's nighttime at 3PM, a gigantic stormcloud hovers over most of SE Texas, and, loser that I am, I find myself contemplating a quiet night at home watching that Mongol DVD I got from Netflix. Dang.
Nevertheless, I'm going to try to persevere & get my ass out the house this evening, at least for a while. Why? Well, because in spite of the weather, there's a crapload of stuff going on.
Bad news first, though: both the on-air KTRU performance of The Eastern Sea and News on the March (promoting their joint-7" release party tomorrow night, natch) and the "live" screening of Metropolis at Discovery Green with accompaniment by the Golden Arm Trio have both been blown out of the water, the former due to a football game & the latter due to (duh) the rain. Damn; those both looked/sounded like good ones. Don't fret, though, 'cause there's plenty left to do tonight (more on the rest of the weekend later on):
The Wild Moccasins/Slingshot Dakota/Elaine Greer/We Monumental/Football Etc. @ Walter's on Washington ($8)
Ah, I love those Wild Moccasins kids. They're just about the most spot-on jangle-pop going right now 'round town (okay, with the exception of Piano Vines, but they don't play nearly as much), and are sweet, friendly, earnest folks besides. Elaine Greer, too, happens to be an excellent songwriter & quite a singer, although I have yet to catch a full show; Football Etc. are relatively new in town, transplants from New Jersey (I think?) who need some love. The songs I've heard so far are promising... (8PM, $8, in case you were wondering.)
The Favorites/Zen Archer @ Dean's Credit Clothing
I'm really torn on this one. Never seen The Favorites live, and I'd dearly love to, esp. given that "Something That You're Missing" has been stuck in my head all damn day -- gorgeous, synth-tinged guitar power-pop that gives Fountains of Wayne a run for their money. Unfortunately, there's the problem of tromping through downtown streets in the fucking rain to get to Dean's, which is not something that I particularly want to do. Argh.
The Lymbyc Systym/Loxsly/Springfield Riots @ Rudyard's
Another one I've been looking forward to, but really only to see openers Springfield Riots, who also do some very cool poppy tunes & consist of members/ex-members of Program, Co-Pilot, & Spain Colored Orange (which gives them quite a fine pedigree, in my book). They're gonna be good, but much as I hate to admit it, I know zero about The Lymbyc Systym & Loxsly, sorry.
Media Archaeology Festival, featuring The Joshua Light Show & Silver Apples @ Museum of Fine Arts Houston (8PM; $10)
This one promises to be trippy as all hell; Joshua White of The Joshua Light Show apparently got his start back in the '60s doing crazy projections for folks like the Dead & Hendrix, and here he'll be collaborating with similarly '60s-bred electronic instrumentalist Silver Apples. I have no freaking clue what this will sound like, sorry. It's pretty much guaranteed to look cool, though.
The Factory Party/Female Demand/Satin Hooks @ Mango's
Ooh, nice -- I'm liking the new Mango's, so I'm sorely tempted to run on over there tonight & finally check out The Factory Party, who I'd feared had broken up & vanished into the Houston smog a while back. Plus, Satin Hooks are good, nicely angular rock. Definitely a contender.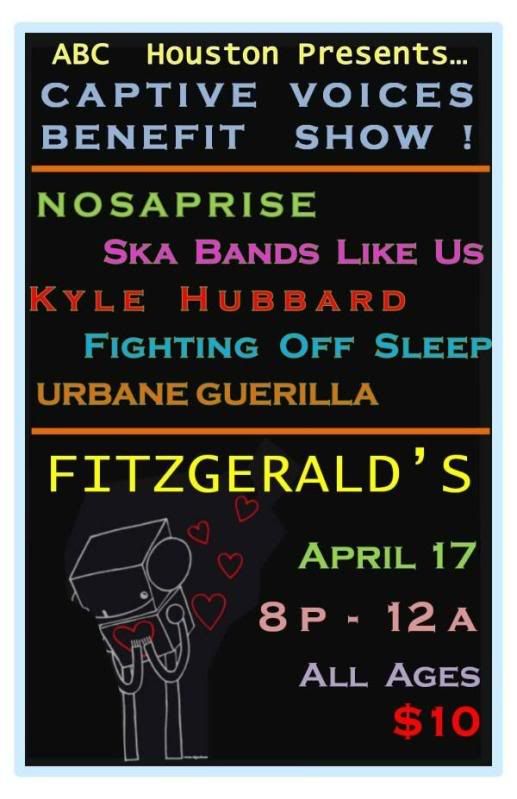 ABC Houston/Captive Voices Benefit Show, featuring Nosaprise, Ska Bands Like Us, Kyle Hubbard, Fighting Off Sleep, & Urbane Guerilla @ Fitzgerald's (8PM-12AM; $10)
I dunno most of these folks, but I've heard good things about Nosaprise, & I know Urbane Guerilla has some fine, fine taste in old-school soul music. Plus, it's a benefit for the Captive Voices zine, a deal written & edited by/for prisoners, which sounds intriguing to me, even if I'm not going to really benefit from it myself.
Texas Crawfish Festival, featuring Bob Schneider, Ray Wylie Hubbard, Brian Jack & the Zydeco Gamblers, LT Roberts & the Zydeco Mob, Jeff Boortz, The Tontons, Mother's Anthem, Right to Refuse, & The Rustlanders @ Old Town Spring (Spring)
A little too far out for me, I'm afraid, but hey, if you're a NE-suburbs-dweller, you can't really go wrong heading up to Old Town Spring for the first night of the Texas Crawfish Festival. Mudbugs + the sultry/fiery sounds of The Tontons == ain't nothing wrong with that.
Runners-Up:
Texas Amplified Showcase, featuring Prime Example, Hero & Rad, Ace & Dat Boy Pollo, Floorbound, A Dream Asleep, Another Run, Make You Escape, The Last Great Assault, & Skyylean @ The Meridian
Houston International Festival 2009, featuring Blaggards & Cass Irish Dancers @ Downtown Houston
Karina Nistal @ The Continental Club
thelastplaceyoulook @ Crazy Frog's
Skavajazz, featuring Unlikely Heroes, Angry Banana, Ryan Scroggins and the Trenchtown Texans, The Failed Attempt, Blindfolded Robbery, & Until We Got Caught @ Javajazz Coffee House (Spring)
Nuts and Volts performance, featuring Golden Whornet Project & The Misfires (after play) @ Super Happy Fun Land

Labels: Charitable Things, H-Town News, Musical Crap, Public Service Announcements, Things To Do
gaijin || Link || E-mail || 0 comments
All contents © 2010 Space City Rock, unless otherwise credited (photos used on the site excepted).