CATEGORIES
OUR FRIENDS
ARCHIVES
RECENT COMMENTS
OUR PICS
Your Weekend, Pt. 2: Etta James + Caddywhompus + Tyagaraja + Balls Deep + More [4/25/2009 07:30:00 PM]:
Late, late, late -- I'm afraid some of these shows are already underway, but I just couldn't get this up here 'til now, having spent the day bouncing between hardware stores & kids' birthday parties...ah, the joys of parenthood. Here's what's going on tonight, Sat., April 25th, that I think looks pretty badass, and yeah, there's quite a bit of it:
Etta James and the Roots Band/Wanda King @ House of Blues
I honestly can't say much of anything about Etta James or how awesome she is. If this isn't sold out already, I'll be stunned & amazed.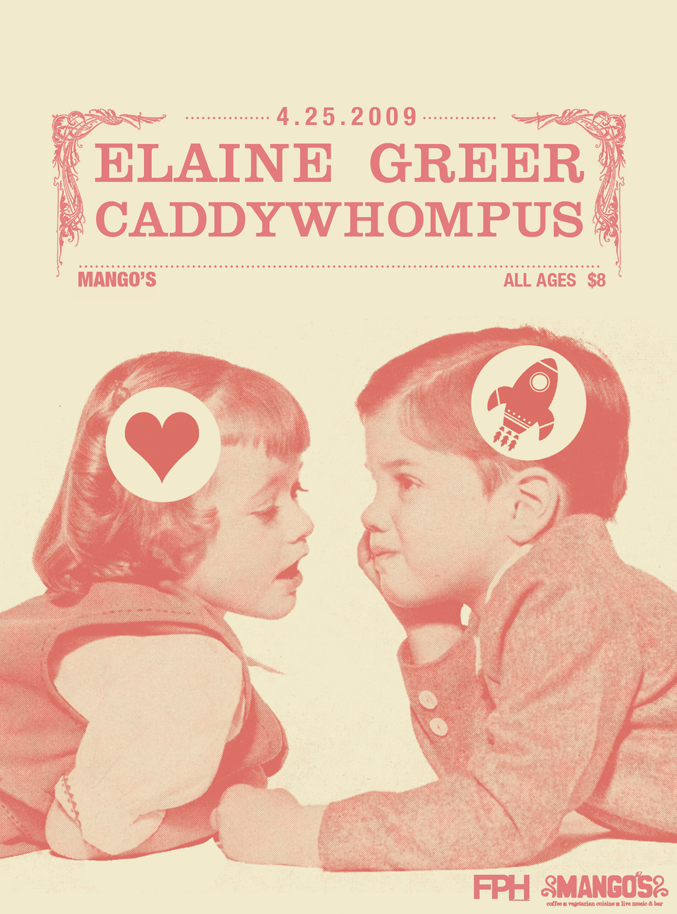 Caddywhompus/ Elaine Greer @ Mango's
Love those Caddywhompus/ Riff Tiffs kids, and not just because Chris Rehm's mom is my kid's teacher (damn, I'm old). Rehm & Sean Hart throw the psychedelia (mostly) to the winds for this project, instead coming up with some blazing, genre-shifting rawk that skips from Queens of the Stone Age to Wolf Parade to, hell, I have no idea. Plus, Elaine Greer is quite a fine songwriter who can sing her ass off -- I'm a late convert, I know, but I've been enjoying the copy of last year's EP I picked up recently.
Kills & Thrills/The Leavers/Balls Deep/Cavernous @ The Mink (9PM; $6)
I've got no idea who most of the folks playing are, but what I've heard of local sex-maniac hip-hopsters Balls Deep has been pretty entertaining -- this'll be Jacob Calle's last show w/the group, so that in itself should be worth checking out...
The Tontons/ Tyagaraja @ Dean's Credit Clothing ($8)
I'd wondered what happened to Million Year Dance -- after some well-received HP Music Awards showcases, a decently interesting EP, and a fair amount of hipster snickering, the band pretty much evaporated. These days, MYD's frontman apparently goes by Tyagaraja and plays solo, and while I'll freely admit that I'm not into the whole Krishna Consciousness thing, the guy's quite a singer; say what you will about MYD, but he can belt it out. And of course, The Tontons rule my world with their fiery, soulful revamping of psych-rock.
Young Mammals/Black Snakes & Kangaroo @ Boner Nap House (3910 Driscoll; 8PM, free!)
House par-tay tiiiime. Black Snakes & Kangaroo are the out-of-towners, I know, but I'd rather check out the awesomely energetic Young Mammals, myself. Standard all-encompassing house party rule applies, of course: don't be an asshole and mess with the place where these kind folks live.
Texas Crawfish Festival, featuring Grand Mullet, Roger Creager, Brian Jack & the Zydeco Gamblers, Brad Randell & the Zydeco Ballers, Pauline Reese, Kozmic Pearl (Janis Joplin tribute), Buxton, Max Stalling, Fred Rusk & the Zydeco Hi-Steppers, John Evans, listenlisten, Giant Princess, Miss Leslie & Her Juke-Jointers, Right to Refuse, & Heptic Skeptic @ Old Town Spring (Spring)
Missed some of the high points already today, I'm sure, but damn, any festival that's got John Evans, Giant Princess, Buxton, Miss Leslie, and listenlisten all playing on the same stage(s) is worth checking out even late.
Pretty in Pink: A Benefit for Leigh Boone, featuring Danseparc @ Numbers
Mentioned this briefly earlier on, but it's a benefit for local artist Leigh Boone, who passed away a few weeks ago after being involved in a horrible accident. Go celebrate her life & help out her family with the medical bills, all while flashing back to your John Hughes-i-fied youth.
Final Javajazz Show (at Current Location), featuring The Last Starfighter, Courage Sleeps, The Brilliance of Suffering, The Clints, Furthest From The Star, & The Kill Artist (reunion!) @ Javajazz Coffee House (Spring)
Already talked about this one, but again, it's gonna be good...
Special Lady Friend/The Lovable Old James/Modulation Hertz/Alkari/Ellypseas @ Westheimer Pub (9003 Westheimer; 8PM, $5)
Dunno a thing about most of these folks, but Alkari are pretty great, nice, straight-up pop-rock that reaches arena-anthem levels at points without getting Coldplay-pretentious.
Houston International Festival 2009, featuring Beoga, Hugh Masekela, Step Rideau & the Zydeco Outlaws, Los Texmaniacs, Little Joe y la Familia, Blaggards, Danny O'Flaherty, Batt Burns, Texas Chainsaw Ceili Band, Cass Irish Dancers, Soular Grooves Sound System, Voodoo Brass Band, Koumanke'le African Dance, Lonestar Stout, Lucia y Valdemar Celt-Iberia, Kevin Burke, Cal Scott, Tom Creegan, Lil' Malcolm & the Houserockers, Original Soul Invaders, Sherman Robertson, Rootz Underground, Flying Fish Sailors, O'Maoileidigh Irish Dancers, Alpha YaYa Diallo, Lost Bayou Ramblers, Strictly Street Salsa Dancers, James Hand, Les Amis Creole, Therese Honey Irish Harp Quartet, St. Thomas Episcopal Pipe Band, Ambassadors International Ballet Folklorico, Baba Ifalade, Cosmic Steel, The British School Choir, Zydeco Dots, Darryl the Juggler, Native Junkaroo Parade, & Grupo de N'Golo @ Downtown Houston
Get on down to downtown if you can this evening; there're a ridiculous number of excellent local-ish Irish folk-type folks playing today/tonight, particularly local boys Blaggards, who blend folk and flat-out rock in a very cool way, the Flying Fish Sailors, who're one of the city's best-loved & longest-lived folk acts, & headliners Beoga. Non-Irishman Hugh Masekela is nothing to sneeze at, either, and hell, I can't help but like a band named the Texas Chainsaw Ceili Band.

Runners-Up:
Los Skarnales/Los Desconocidos/Somosuno @ Fitzgerald's
Tody Castillo/Teresa Kolo/Lance Smith @ Rudyard's
Ryan Scroggins and the Trenchtown Texans @ The Continental Club
John Evans @ Armadillo Palace

Labels: H-Town News, Musical Crap, Public Service Announcements, Things To Do
gaijin || Link || E-mail || 0 comments
All contents © 2010 Space City Rock, unless otherwise credited (photos used on the site excepted).