ABOUT THIS BLOG
The official Space City Rock Blog, featuring news on local Houston musical happenings and occurances, random venting about various things, and fervent ravings on the wonders of music, art, film, and anything else.
WRITERS
RECENT POSTS
LOCAL RESOURCES
CURRENTLY ROCKIN'
CATEGORIES
OUR FRIENDS
ARCHIVES
RECENT COMMENTS
OUR PICS
Update: Room 101 Review + Show (Tonight!) [11/01/2008 10:50:00 AM]: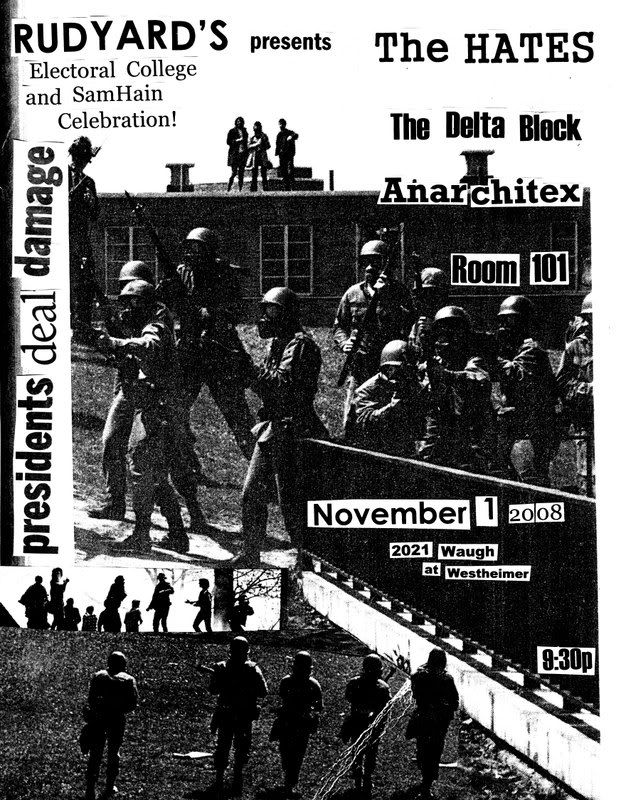 It's been a while, I know, since I posted an update up here (like, um, August?), but believe it or not,
SCR
hasn't been asleep -- even with Ike delivering the smackdown on Houston, we've kept putting up new stuff...
I'll hit the whole list soon, but the most pressing one's the brand-new review of the demo we received from local noisemaker and one-man-band Room 101 a few months back. It's a flat-out raw, noisy, squall of punk-ish (yet not really "punk") rawk that brings to mind folks like The Paper Chase, Cop Shoot Cop, & Barkmarket; I went in with fairly low expectations, but the disc delivered a heck of an uppercut. Check out the full review here.
Got it up last night, btw, because Room 101's playing tonight, Sat., November 1st, up at Rudyard's -- they're playing with fellow local heroes The Hates, The Delta Block, & Anarchitex. From the flyer, it looks like Room 101's on first, so I'd get there early; the show's supposed to start around 9:30PM. Gonna be a good one...
Labels: H-Town News, Musical Crap, Reviews, Things To Do
gaijin || Link || E-mail || 2 comments