ABOUT THIS BLOG
The official Space City Rock Blog, featuring news on local Houston musical happenings and occurances, random venting about various things, and fervent ravings on the wonders of music, art, film, and anything else.
WRITERS
RECENT POSTS
LOCAL RESOURCES
CURRENTLY ROCKIN'
CATEGORIES
OUR FRIENDS
ARCHIVES
RECENT COMMENTS
OUR PICS
Good One, Tonight: The Gold Sounds & The McKenzies at Boondocks [11/17/2008 04:25:00 PM]: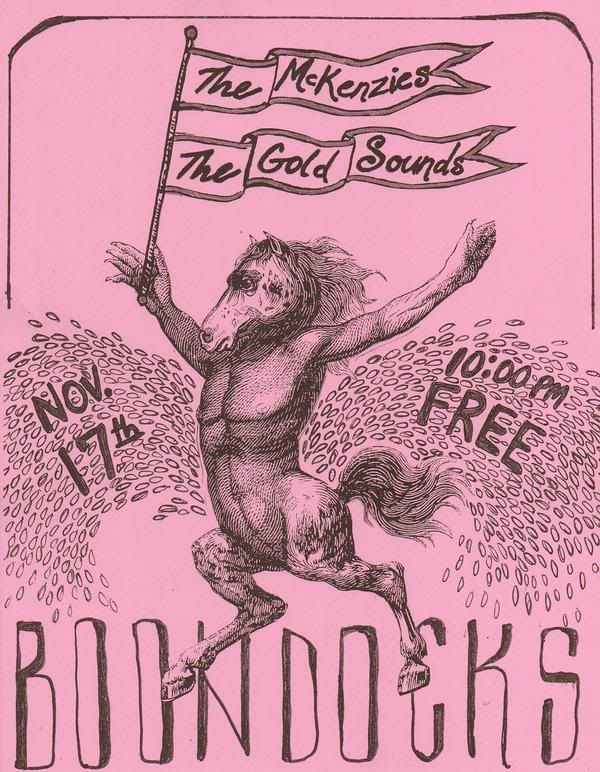 Never been to
Boondocks
, but tonight's bill makes me want to give it a shot, in spite of my general exhaustion... I have a hard time resisting the lure of both Deer Park's finest,
The Gold Sounds
, and the up-and-coming
McKenzies
.
I've missed seeing the Sounds live so far, unfortunately, but their recorded stuff is mind-blowing, a heady mix of garage-y rawk, Kings of Leon-esque almost-country indie vibe, and unkillable melody. ("College Radio", in particular, rules.) And then, for their part, The McKenzies blew me away at their Block Party showcase, especially when the power cut out and the band kept going. Seriously -- no lights, no amps, just vocals, and they blazed on like they'd fucking planned it that way. It was awesome.
Oh, and tonight's show is at 10PM, and it's free, which, obviously, makes all things better. There you have it, then -- get on out there...
Labels: Musical Crap, Pseudo-Reviews, Things To Do
gaijin || Link || E-mail || 0 comments