CATEGORIES
OUR FRIENDS
ARCHIVES
RECENT COMMENTS
OUR PICS
H-Town Art Underground, One Night Only [2/22/2008 12:25:00 AM]: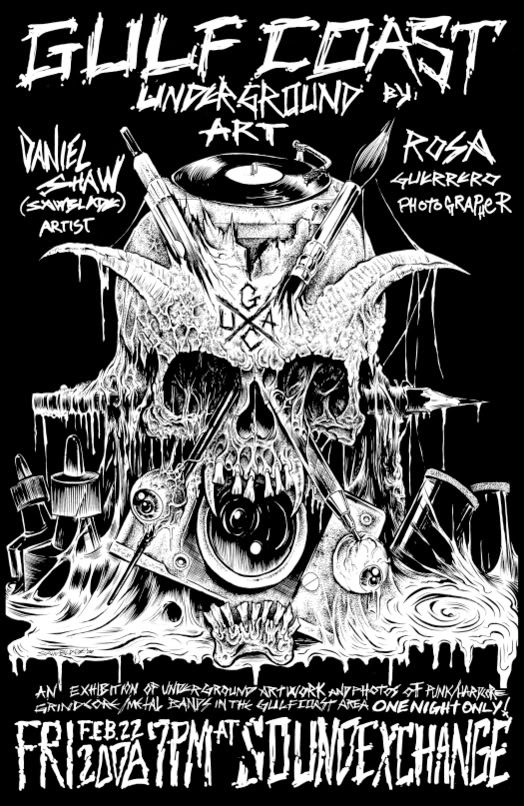 If you've been paying attention at all to the H-town scene for the past while, you probably already know who the awesomely awesome Rosa Guerrero is, and if you don't, you've probably seen her photos either way. She's the sweet-yet-tough stepmom of the Scene Kids on the one hand, and on the other she's a kickass photographer who's taken pitchers of pretty much everybody you can think of who's somehow related to music in this city.
Anyway, in addition to her fine, fine Ditch Water 'zine, Rosa will be having a full-on photography-and-art exhibition-type thingy called Gulf Coast Underground Art up at Sound Exchange tomorrow, er, tonight (Fri., 2/22, that is) from 7PM or so. It'll be Rosa's photos and punk/hardcore/grindcore artwork by Daniel "Sawblade" Shaw, who also did that scary-ass poster up there with the skulls & whatnot. I'm pretty sure it's free, but here's more details, in Rosa's own words:
hey there rock and rollers!

if you're interested in punkrock photography and art (current) come out to a little one-night exhibit me and daniel "sawblade" shaw are doing. its called gulf coast underground art: the harcore, grindcore and metal scene (or something like that).

i'll be presenting my scene photography along with (and more importantly) daniel's pen and ink illustrations. i'm attaching the pen and ink illustration he did for our show poster (how old school is that?) because it is too cool for school. a couple of his other pieces and a couple of my craptastic shots are here: http://s251.photobucket.com/albums/gg284/rosa_foto/

show starts at 7pm. at sound exchange, richmond at hazard. byob. free but bring wads of cash for records and photos (just don't touch the illustrations unless you wanna get pounced!)

ONE NIGHT ONLY!!! you snooze you lose! so come out and schmooze like its "heavy metal parking lot" 2008!!!

pass this on to the pissed-off, no-goodnik, brooding, outcast teen in your life. they are our future!!
Indeed, they are. Sadly, yours truly will be otherwise engaged -- specifically, I'll be handing little paper certificates out to people who a bunch of other people think write good -- but believe me, I would much rather be enjoying me some art at SoundEx. Oh, and if you want to know more about Ms. Guerrero, check out this damn insightful interview over on The Skyline Network.
Labels: Public Service Announcements, Things To Do, Things To See
gaijin || Link || E-mail || 0 comments
All contents © 2010 Space City Rock, unless otherwise credited (photos used on the site excepted).